| | |
| --- | --- |
| Posted on November 11, 2017 at 11:15 AM | |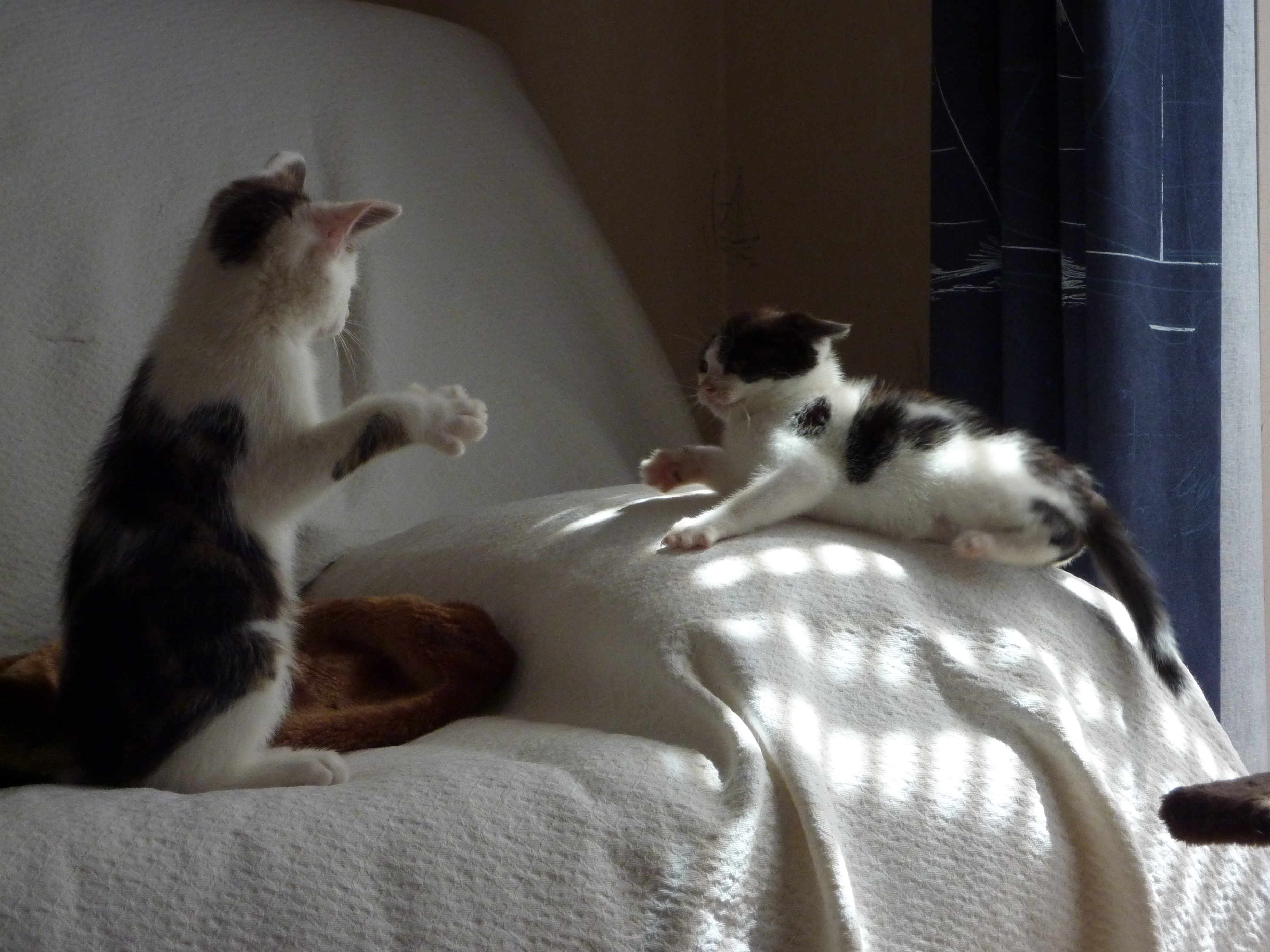 Vorig weekend waren "De Koddige Katjes" te gast op de wintersale van de Two Lazy Seven Ranch, waar ik in een lezing een aantal verschillen en gelijkenissen besprak tussen paarden en katten. Ik vond het superleuk om te doen. En nog veel leuker om dan aan het einde een aantal heel goeie vragen en reacties te krijgen. Ik pik er eentje uit, 't is een beetje een doordenkertje, en misschien heb ik er op dat moment niet echt voldoende antwoord op kunnen geven, dus wil ik er langs deze weg even dieper op ingaan. Kleine waarschuwing: 't is iets "zwaardere kost" dan jullie hier gewend zijn.
Een van de belangrijke verschillen tussen paard en kat is dat een paard een kudde-dier is, en daarom zeer sterk gericht op hierarchie. Alle interactie tussen paarden is erop gericht om rangorde te bepalen: ben jij mijn leider? Kan ik op jou rekenen voor mijn veiligheid? Kan ik je vertrouwen en ben je mijn respect waard? Een kat daarentegen, als solitaire jager, heeft geen boodschap aan hierarchie. Die wil vooral geen concurrentie in haar buurt.
Ok, dat was dus de stelling. En toen kwam de zeer terechte en interessante bedenking van iemand uit het publiek: "daar ben ik het toch niet mee eens. Ik heb 3 katten thuis, en eentje is duidelijk de baas, die gaat altijd als eerste eten, enz..."
Hm... tja... dat kan ik me levendig voorstellen. Maar als je daar wat dieper over nadenkt, dan is dat geen kwestie van hierarchie, althans toch niet in de interpretatie van het woord zoals dat voor een kudde-dier als een paard geldt. Het klopt wel dat die 2 andere katten op bepaald moment geleerd hebben, dat ze beter kan nr3 eerst laten eten, omdat er anders wat zwaait. En in die – zeer beperkte zin – zou je kunnen stellen dat kat nr3 "baas" is over de anderen. Maar daar houdt het dan ook mee op. En da's iets heel anders dan paard nr1 die in een kudde actief gaat "testen" of paard nr2 hoger in rang is of lager in rang. Paard nr1 is nl op zoek naar een leider, dus hij wil weten of hij dat ander paard voldoende kan vertrouwen, en of het zijn respect waard is, want als hij dat paard nr2 als leider aanvaardt, dan gaat hij ook op paard nr2 rekenen om hem te beschermen tegen vijanden, om hem te leiden naar plaatsen met voldoende voedsel, enz. Om in een kudde te leven heb je regels en afspraken nodig, anders weet je nooit waar je aan toe bent. De kudde staat voor veiligheid. En dat vereist voorspelbaarheid. En laat ons niet vergeten, paarden leven al hun hele geschiedenis in kuddes. Duizenden jaren.
 
Terug naar de katjes. De wilde kat leeft van nature uit niet in kudde, zelfs niet in een groep (de leeuw is de vreemde eend ... eeh kat... in de familie). Katten die in groep leven (bv in een multi-kat huishouden, of in een groep zwerfkatten) vormen een zeer recent gegeven – biologisch gezien. En dus denkt die kat van nature ook helemaal anders dan dat paard. Als solitaire jager is een kat van nature uit gewend om haar eigen boontjes te doppen. Er is niemand die haar muisjes zal komen brengen, er is ook niemand die haar zal beschermen tegen andere roofdieren. En een andere kat is in 1e plaats een concurrent die met "haar" muisjes gaat lopen. En vandaar dus dat er wel eens wat geblaasd of zelfs uitgehaald wordt aan de etensbak: dit is "mijn" prooi. De kat die het onderspit delft, heeft dan 2 keuzes: ofwel elders op zoek naar eten (maw haar territorium verplaatsen), ofwel wachten en hopen dat er straks nog wat overblijft. Als het dan in ons concrete voorbeeld gaat over binnenkatten, dan is "territorium verplaatsen" niet echt een optie. Gelukkig zal de kat snel leren dat er nog wel voldoende overblijft nadat de "dominante" kat haar buikje gevuld heeft. Overigens, het komt inderdaad voor dat als je een 2e kat in huis neemt, en het klikt niet met de 1e kat, dat de 1e kat mogelijks van huis wegloopt om haar geluk elders te beproeven.
Dus, hoe zit het nu met die 3 katten van de vraagsteller uit het publiek? Ja, nr1 en 2 hebben geleerd om nr3 eerst te laten eten, maar vanuit katteninstinct gezien, blijft zo'n situatie wel een bron van stress. Want elke keer opnieuw worden ze bij het eten geconfronteerd met een concurrent. Je mag er niet vanuit gaan dat "eens ze weten wie er baas is, is het ok". En zoals iedereen weet, is voortdurende stress niet gezond. Ook niet voor de kat. Om dit soort situaties te vermijden kan je dus beter elke kat haar eigen bordje aanbieden, zover mogelijk van mekaar, evt in aparte kamers indien nodig. Gelukkig komt het ook heel vaak voor dat katten wel vriendjes zijn. Want de huiskat is wel een stukje socialer dan de wilde kat, en mits goeie introductie kan het best klikken. En dan kunnen ze ook gerust gezellig samen tafelen. Dat geldt ook voor kittens uit eenzelfde nestje; per slot van rekening hebben die vanaf dag 1 ook al samen aan dezelfde melkbar gehangen.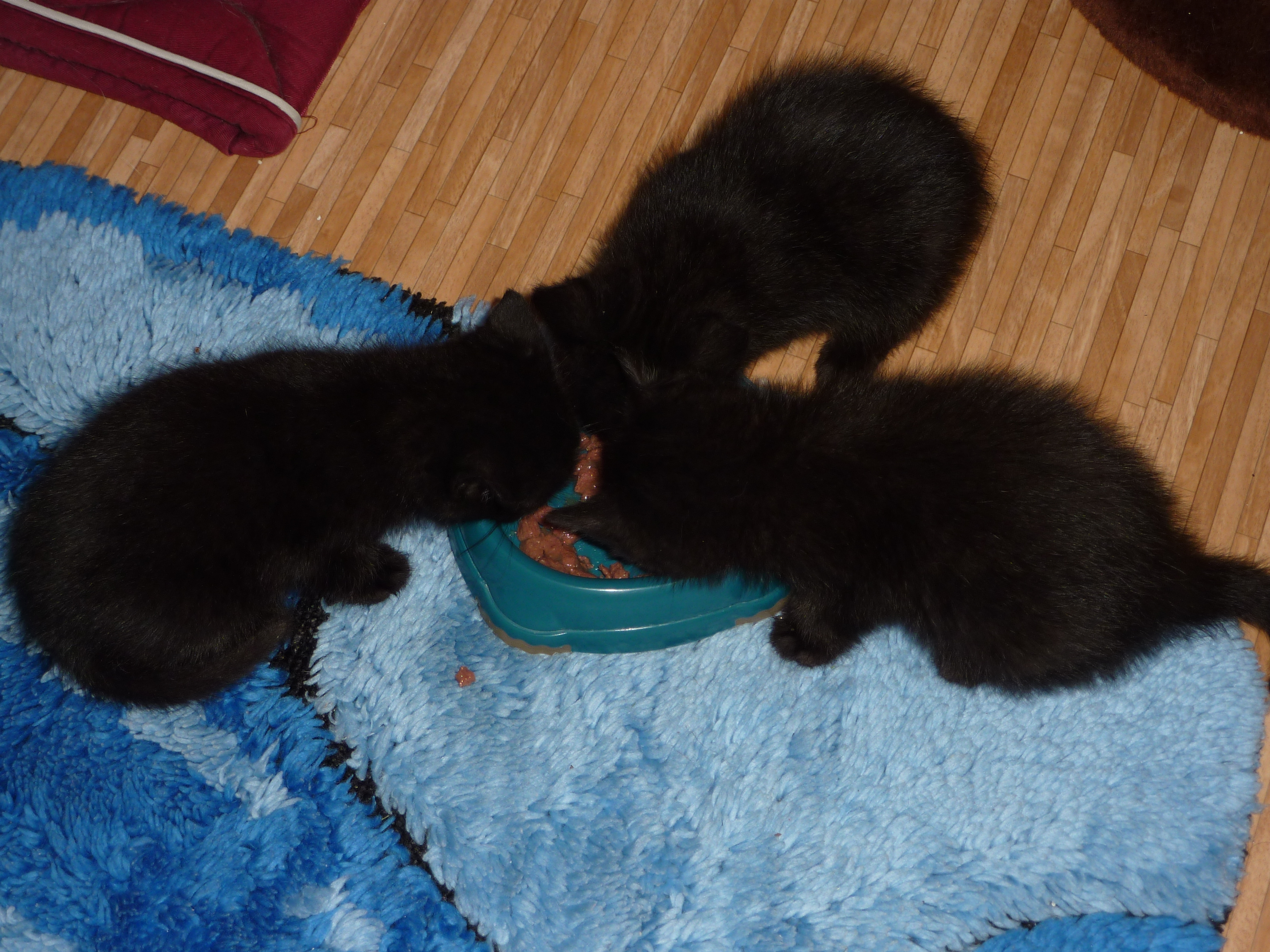 Nog even voor de volledigheid een kleine nuance op het bovenstaande: in sommige omstandigheden komt het wel voor dat 2 mama-poezen gaan "samenwerken" en mekaars kittens gaan beschermen. Zo kan de ene op jacht gaan, terwijl de andere kinderoppas speelt. Dus dan valt dat concurrentie-aspect weg. Dat zie je dan ook eerder bij katten uit eenzelfde familie, oma-poes of tante-poes, mama-poes, kittens. Ook in situaties waarbij er ruim voedsel voorhanden is zie je katten in groepen samenleven; denk maar aan zwerfkatten die aan de achterdeur van een restaurant restjes vinden. En daar zal er ongetwijfeld wel eentje "baas" spelen over de rest. (wie kent er Top Cat nog?)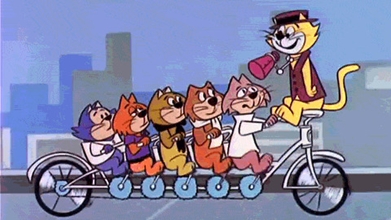 Maar, als algemene conclusie, en zoals iedereen eigenlijk al lang wist: katten hebben geen baas, en dus ook geen baas-boven-baas. Katten hebben personeel !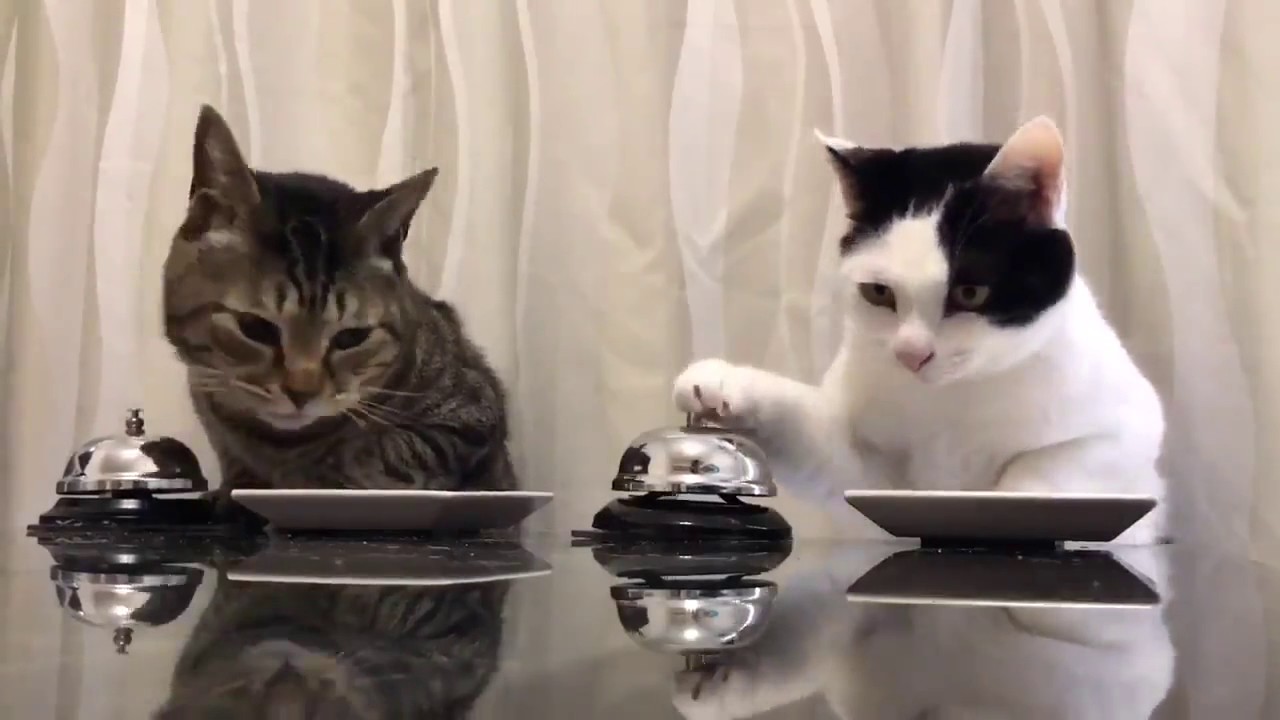 En de 2 kittens van de eerste foto aan het begin van deze tekst? Dat waren 2 opvangertjes uit verschillende nestjes, en die hebben heel snel vriendschap gesloten. Met jonge kittens lukt dat meestal wel. Met volwassen katten kan je beter de kennismaking grondiger begeleiden als je wil vermijden dat de pels door de kamer vliegt. Maar da's dan weer een heel ander onderwerp.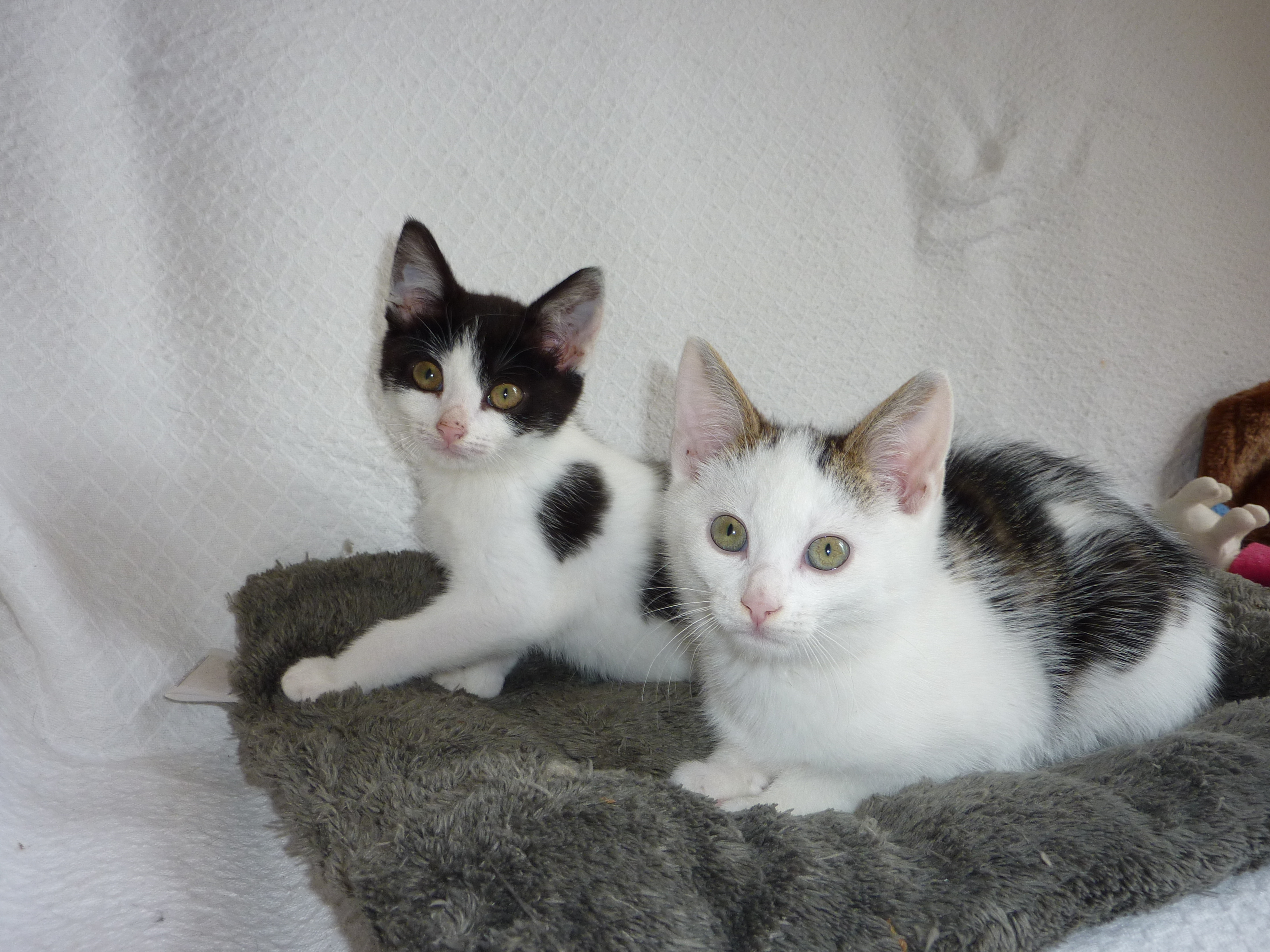 Categories: Kattengedrag algemeen
/