| | |
| --- | --- |
| Posted on March 17, 2018 at 3:05 AM | |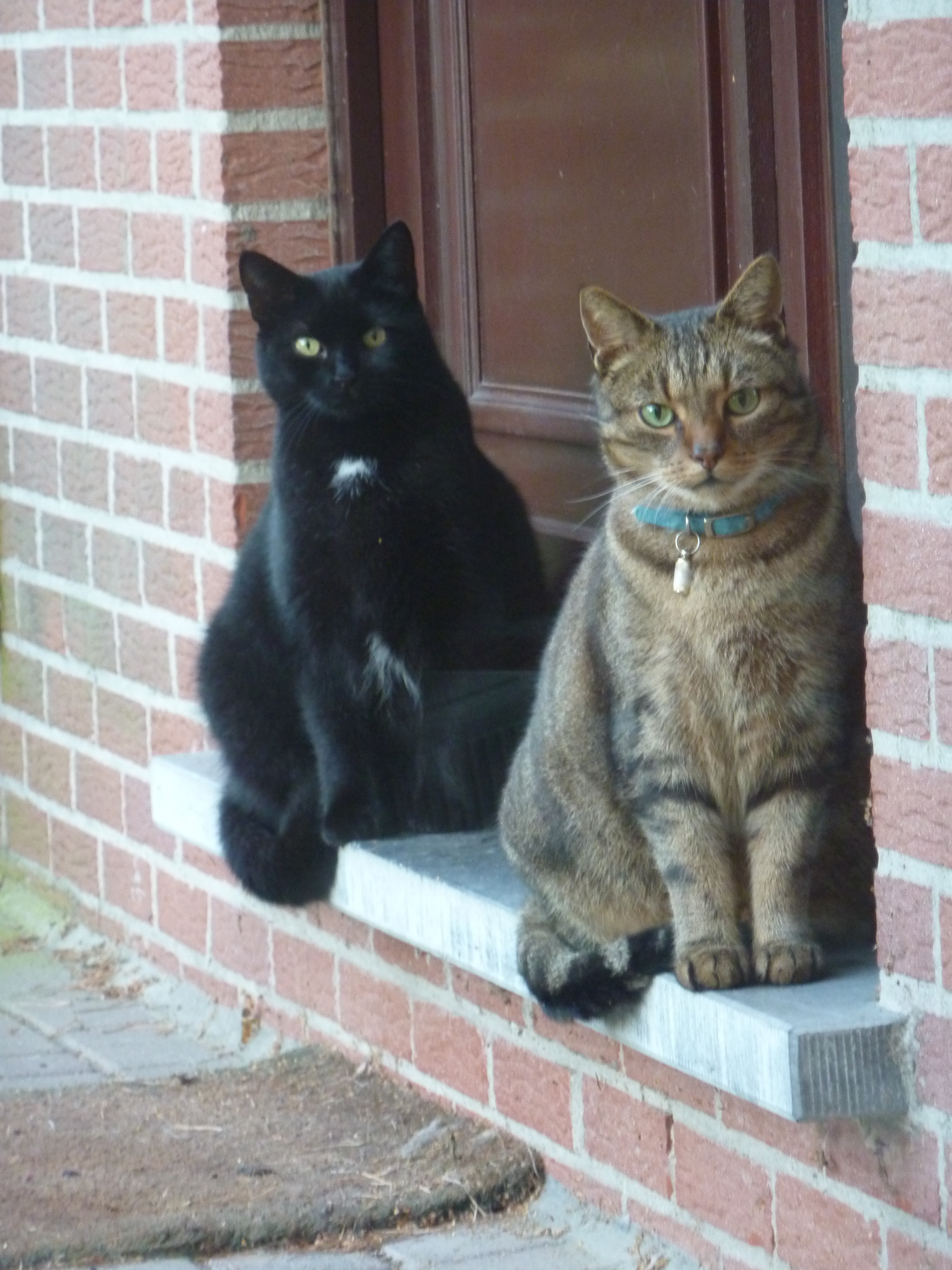 Je hoort het zo vaak: "Ja, wij hebben een kattenluikje, maar wij hebben ook een heel domme kat, want we moeten nog steeds voor haar de deur opendoen."
Nu, al die mensen hebben natuurlijk geen domme kat, maar juist een slimme kat. Want zeg nu zelf, als kat heb je toch personeel, dus waarom zou je je door zo'n luikje wurmen als je een portier hebt die de deur voor je kan openen?
Alle gekheid op een stokje, hoe zit dat eigenlijk met grote mensendeuren en kleine kattendeurtjes?
Vooreerst, voor een kat is haar territorium SUPERbelangrijk, veel belangrijker dan de baasjes, zelfs als de baasjes verder eigenlijk enkel van nut zijn als blikopener of portier. Instinctief heeft een kat een herkenbare en voorspelbare omgeving nodig, d.w.z. dat ze weet waar en wanneer er concurrenten kunnen opduiken, waar er muisjes te vangen zijn, enz. Een deur die soms open is en soms dicht is, da's niet voorspelbaar en dus vindt de kat dat niet leuk. En dan krijg je die situaties waarbij jij denkt dat de kat naar binnen wil en als je dan de deur opent, dan blijft ze gewoon buiten voor die open deur zitten. Want zij heeft haar doel bereikt: die deur moest gewoon openstaan ... ik wou toch helemaal niet binnenkomen ... hoe kom je daar nu bij? Geloof me, ik heb ook zo'n "treiterpoes".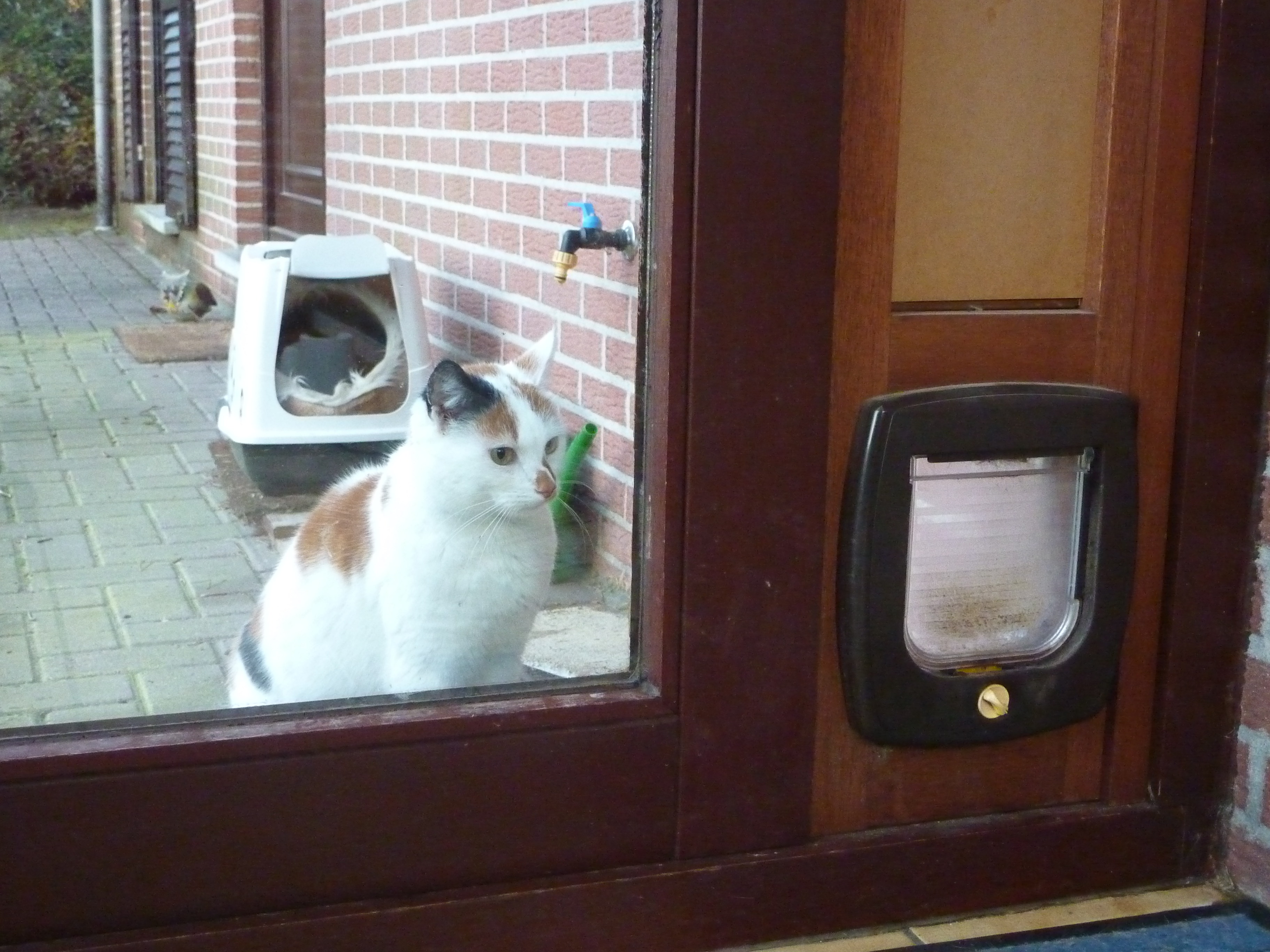 En hoe zit het dan met dat kattenluikje? Voor je je kat afschrijft als "dom", is het misschien toch even nuttig om je af te vragen of er niet een goede reden is waarom de kat het luikje niet wilt gebruiken. Er zijn een aantal redenen:
Een kat met artrose (en heel veel oudere katten hebben artrose) of een kat die vroeger ooit een gebroken pootje of zo heeft gehad, die heeft misschien pijn wanneer ze de pootjes moet optillen om door het kattenluikje te kruipen. Katten zijn meesters in het verbergen van pijn, en "niet (meer) door het luikje willen", kan een subtiel symptoom zijn. In dat geval, even overleggen met de dierenarts om medische oorzaken te vinden of uit te sluiten.
Een kat die eerder angstig is van karakter, is misschien gewoon bang van de grote boze wereld daarbuiten. Die blijft liever veilig binnen. Wie weet loopt er een kwade buurkat rond. Bekijk de zaak even vanuit het perspectief van de kat: ze kan vooraf niet checken of die kwaaie kat niet op de loer ligt in de struiken, om haar aan te vallen zodra ze buitenkomt. In dat geval kan het helpen om aan de buitenzijde van het luikje extra veiligheid te bieden, bv. een paar bloembakken zetten, zodat de kat dan eigenlijk vlak voor het luikje in een "veilig" verstopplekje zit en eerst rustig kan inschatten of de kust wel veilig is.
Heb je een vrij robuuste kat, misschien is het luikje gewoon te klein... je hebt ook luikjes voor honden, die een stukje groter zijn.
Een kat moet natuurlijk ook geleerd hebben om het luikje te gebruiken. Dat wil zeggen dat je aanvankelijk het flapje zal moeten open binden en dan de kat leren dat er "iets leuks" (lees: iets lekkers) is wanneer ze door het luikje gaat. En dat leerproces heeft wel eventjes tijd nodig, dus niet te snel opgeven.
En om nog even terug te komen op dat "voorspelbare" territorium, ik heb er eentje die daar nog een stapje verder in gaat. Ik heb een kattenluikje ingebouwd in een frame dat gemonteerd wordt in het schuifraam (zie foto). Natuurlijk vindt Musti het nu eenmaal veel comfortabeler als ik dat schuifraam voor haar open. Oké, in dit geval is er ook nog een andere reden (die opnieuw met "gevoel van veiligheid" heeft te maken), maar da's een lang verhaal en dat zou ons te ver leiden. Maar ... en nu komt het ... als dan dat frame met kattenluikje niet gemonteerd staat en ik gewoon het schuifraam open, dan komt ze ook niet binnen, want "hier klopt iets niet, dat ziet er hier niet normaal uit". Dus op dat moment moet ik dan even dat frame terugplaatsen, dan het schuifraam 20 cm opendoen naast die plaat en dan komt mevrouw onmiddellijk binnen. Logisch toch.
Dus, wat hebben we nu geleerd vandaag? Ten eerste: je kan er niet onderuit, katten hebben geen baas, katten hebben personeel. Ten tweede: katten zijn niet dom, katten zijn gewoon meesters in het trainen van hun personeel. En tenslotte: voor je conclusies trekt, toch eerst even doordenken over mogelijke oorzaken waarom je kat het kattenluikje niet wil gebruiken. Misschien is er echt wel een probleempje dat eerst moet opgelost worden.
En omdat ik nu eenmaal fan ben van Simon's cat, mag dit filmpje hier ook niet ontbreken: "Simon's cat "let me in"" (https://www.youtube.com/watch?v=4rb8aOzy9t4)
Als je dit verhaaltje leuk vond, dan is lesmodule "Het territorium van de kat" helemaal iets voor jou. Die staat gepland op zondag 8 april, en daarin komt een hele reeks van dit soort topics aan bod. Meer info op de website van De Koddige Katjes.
P.S.: voor de goede orde nog even een kleine nota bij de foto bovenaan, die toevallig dateert van zo'n 10 jaar geleden. Op die foto zie je dat Streepke een halsbandje met adreskokertje draagt. Daar ben ik ondertussen al lang van afgestapt. Ten eerste zijn mijn katten ondertussen allemaal gechipt en geregistreerd, en ten tweede is zo'n halsbandje echt geen goed idee, daar kan namelijk vanalles mee mislopen wanneer de kat er ergens mee blijft achterhangen of dergelijke. In het beste geval is het een "lopende rente" aan halsbandjes, omdat de kat er toch telkens in slaagt om het ding kwijt te spelen.
Categories: Kattengedrag algemeen
/