| | |
| --- | --- |
| Posted on May 19, 2018 at 11:00 AM | |
Dit is een verhaaltje in de categorie "dit moet mij weer overkomen". Het is ondertussen al een jaar of 5 geleden, maar ik werd er vanmorgen aan herinnerd nav iemand anders die mijn advies inriep met "ik heb weer wat voor"... Ik had onmiddellijk een deja-vu.
Het was een zonnige zaterdag, en ik had me er helemaal op ingesteld om een beetje in de tuin te gaan klussen. Dus, alle materiaal klaargelegd, en vol goeie moed begonnen met de haag aan de straatkant. Na nauwelijks 10 minuutjes komt er een scharminkel van een kat naar mij toe, klaaglijk miauwend, met een duidelijke toon van "ik heb in geen 14 dagen eten gehad". En zo op het eerste zicht leek er nog wel wat meer aan de hand ook: de pels vol klitten (gelukkig geen langharige kat), en qua algemene indruk niet wat je noemt een kat die blaakt van gezondheid.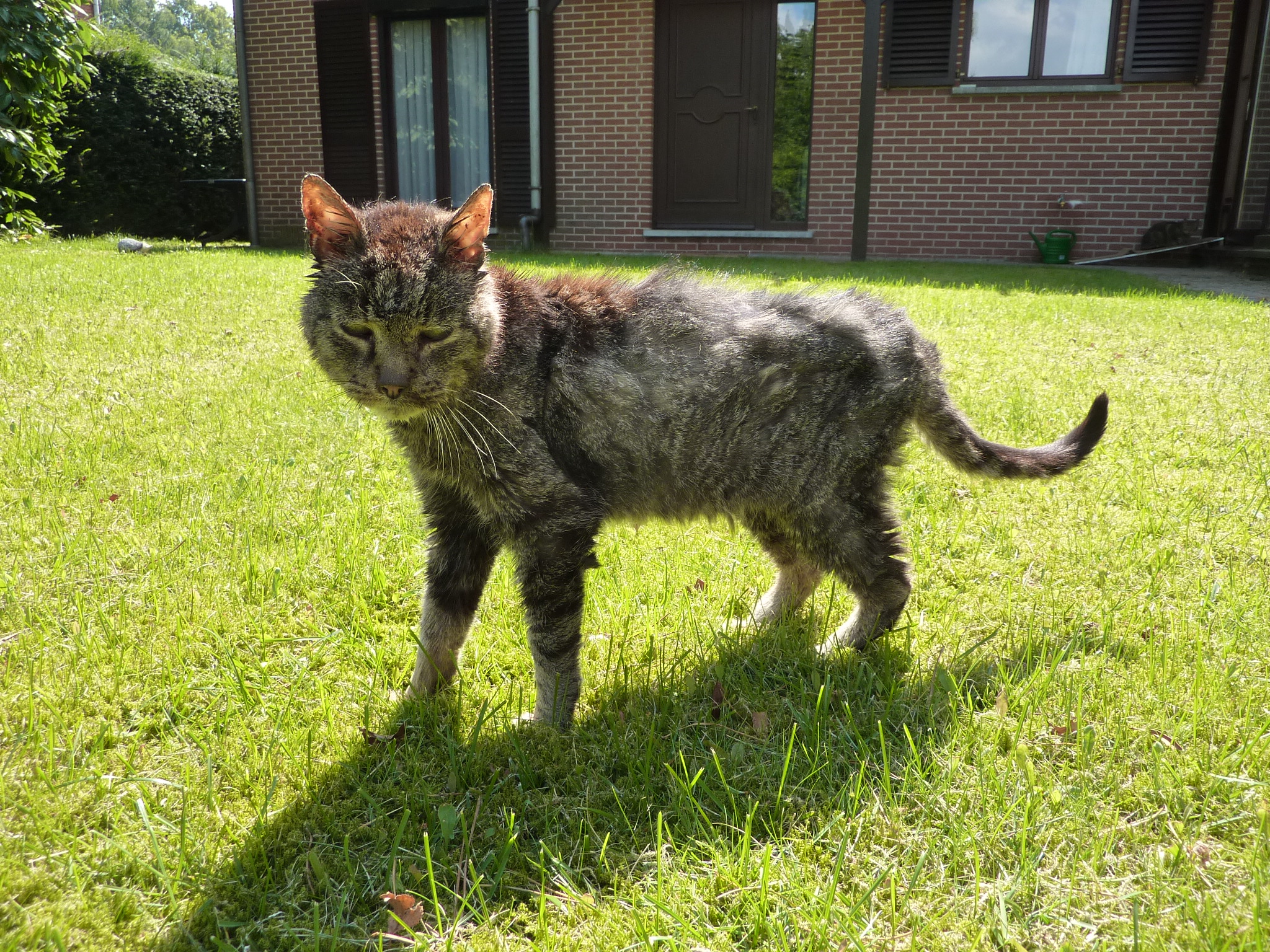 Nu komt er af en toe nog wel eens een "vreemde" kat op bezoek in mijn tuin, maar vermits ik hier al jaren woon, ken ik de meeste kattige buren wel. En trouwens, die zien er allemaal "rond en gezond" uit (de katten dus he, niet de baasjes). Deze kat was ook duidelijk geen zwerfkat. Hij (het bleek later een kater te zijn) kwam vriendelijk goeiedag zeggen en kopjes geven, volgde me spontaan in de tuin, en was natuurlijk ook helemaal blij met een paar kattenbrokjes. Maar wat doe je in zo'n geval? Ik had behalve mij eigen katten op dat moment ook een paar logeetjes (opvangkittens) in huis, dus om even – zelfs tijdelijk - een niet-gezond-uitziende kat in huis te nemen, was echt geen optie. Dan maar telefoontje naar het asiel, kat in transportbakje en hup een ritje naar het asiel. Daar aangekomen even checken op chip, maar niks natuurlijk ('t is ook 5 jaar geleden gebeurd, een gechipte kat was toen al helemaal een uitzondering). De asielverantwoordelijke gaf me wel gelijk: zou kunnen dat het een kat is die een tijdje in een garage of zo heeft opgesloten gezeten, maar dan echt wel op het nippertje is kunnen ontsnappen. Wat later komt de dierenarts van het asiel langs, en haar inschatting is dat het een stokoude kater is, inderdaad duidelijk onverzorgd. Groot gelijk van die binnen te brengen.
Enfin, ik laat het beestje achter in de goede zorgen van de asielmedewerkers en rij terug naar huis, om alsnog een beetje in mijn tuin te klussen... Later op de dag komt de buurman thuis, en ik doe mijn verhaal: "hm... da's waarschijnlijk de kat van hierover". Oeps! Daar sta je dan!
Dus, met rode wangen gaan aanbellen bij de overbuur... niemand thuis... briefje in de bus gestoken... huis in de gaten gehouden... geen overbuur te bespeuren... Pas de volgende dag komt hij bij mij aan bellen "'t schijnt dat gij mijn kat naar het asiel hebt gebracht". Eeeh, ja dus... Ik begin toch even door te vragen hoe het dan komt dat die kat er zo onverzorgd uitziet en zo, en dan blijkt dat het inderdaad een stokoud beestje is (hij liep tegen de 20j), die recent is beginnen dementeren... Vandaar dat ik hem nog nooit gezien had: hij liep al heel zijn leven in de tuinen achter zijn thuis, maar de laatste tijd was hij wel vaker wat "in de war", liep hij de foute kant op, en stak dus de straat over, om dan bij mij uit te komen. Ha ja, maar die onverzorgde pels dan? Het bleek algauw dat dit een geval was van "onwetendheid" van het baasje. Hoezo, een oude kat moet je helpen omdat hij zichzelf niet meer kan wassen? Tja... Na een kleine "opvoedkundige" uiteenzetting van mijn kant, was de logische oplossing dat ik opnieuw het asiel belde en de kat terug ging ophalen.
Al bij al heeft de kat een spannend uitje gehad zonder daar verdere last van te ondervinden. 't was echt geen stress-kat. Hij is van de ergste klitten in zijn pels verlost geweest, was daarna blij van terug thuis te komen, en heeft verder nog een half jaartje of zo van zijn oude dag genoten, waarna hij puur van ouderdom naar de kattenhemel is vertrokken.
De moraal van het verhaal:
Een oudere kat heeft echt wel wat extra verzorging nodig. Typisch hebben ze last om zichzelf te wassen, omdat ze nu eenmaal wat stijver worden (een verrassend hoog aantal katten heeft last van artrose). Een regelmatige borstelbeurt kan veel problemen voorkomen, want klitten in je pels is echt geen pretje.
Verder is het zeker aan te raden om de frequentie van de jaarlijkse controles bij de dierenarts op te drijven (naar half-jaarlijks bijvoorbeeld): katten op leeftijd krijgen typisch last van een aantal ouderdomskwaaltjes, denk aan hoge bloeddruk, nierproblemen, artrose, ...Veel daarvan kan met aangepast dieet en medicatie aangepakt worden, om zo de kat toch een aangename oude dag te bezorgen.
Katten kunnen net als mensen gaan dementeren... dan raken ze in de war en lopen ze wel eens verloren. Dus als jouw kat dit soort symptomen gaat vertonen, dan hou je ze voortaan beter binnen voor haar eigen veiligheid.
Laat aub uw kat chippen en registreren! Als een goedbedoelende dierenliefhebber dan uw kat van straat plukt omdat ze denkt dat er iets niet pluis is, dan kan de kat ook onmiddellijk terug thuisgebracht worden.
Categories: Algemene tips voor kattenpersoneel
/