| | |
| --- | --- |
| Geplaatst op 14 juni, 2018 om 9:50 | |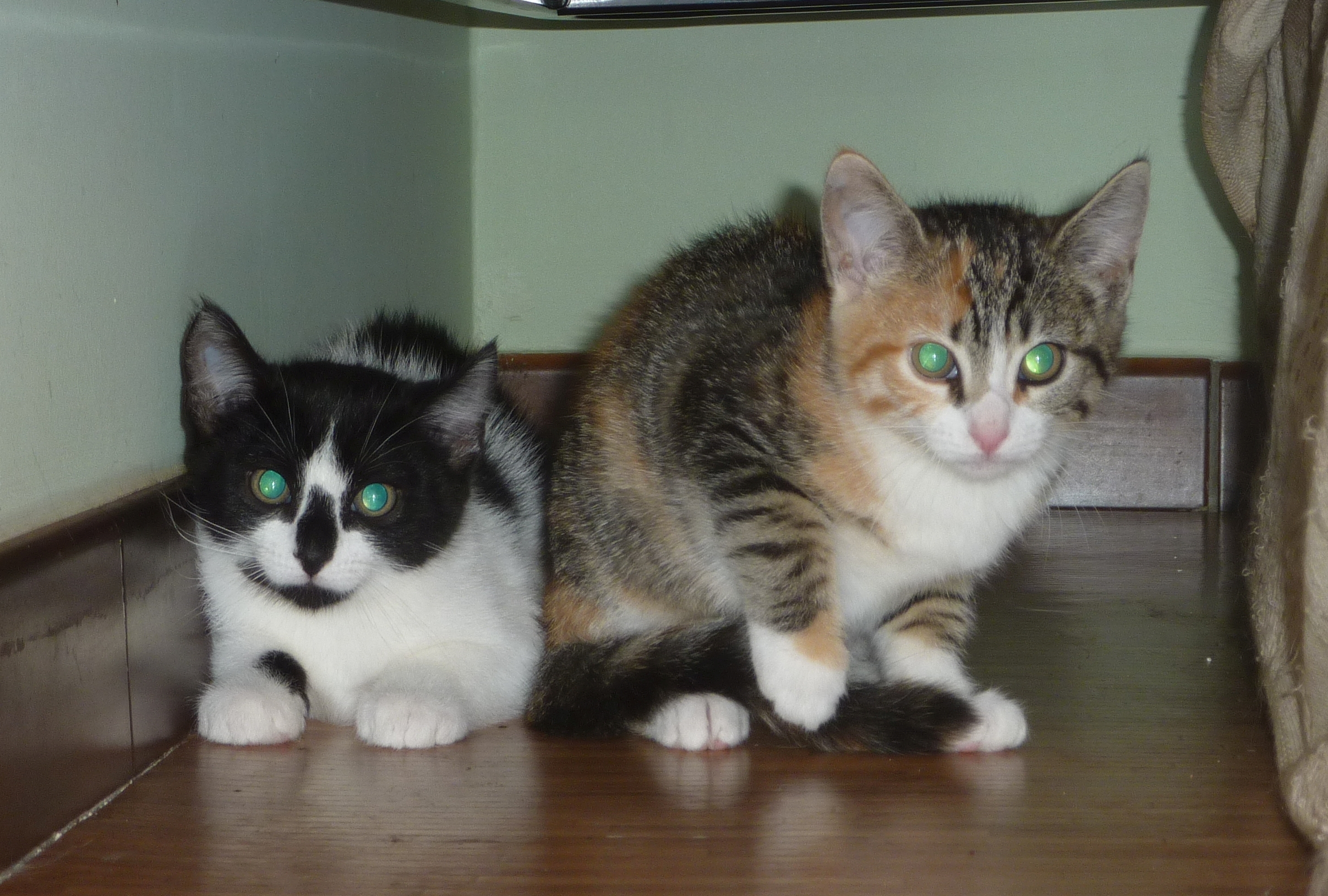 Ik had jullie beloofd om verslag uit te brengen zodra ik nieuwe logeetjes (opvankittens) over de vloer zou krijgen, dus hier komt aflevering 1. De eerste "new arrivals" van het seizoen zijn gisterenavond aangekomen. Ze hebben alvast eventjes moeten poseren voor de traditionele verplichtte 1e foto, met groene flitsoogjes onder het logeerbed; tja, poseren voor de foto moeten ze natuurlijk ook nog leren...
Ik ben nog een beetje aan't denken over namen, maar ik weet alvast dat het broer en zus is, dat helpt. Ze zijn gevangen (jawel, met vangkooi) bij een boerderij, ondertussen zo'n 3 weken geleden, en hebben al een tijdje bij een ander gastgezin gelogeerd. Omdat ze daar toch wel erg bang bleven, willen we nu proberen of een verandering van omgeving ze op andere gedachten kan brengen. Maw het zijn echt wel weer bangerikjes. We schatten ze ongeveer 12 weken oud. Dat betekent dus ook dat ze echt wel een belangrijk stukje socialisatieperiode gemist hebben. Mijn belangrijkste opdracht voor de komende dagen en weken bestaat er dus in om hen te overtuigen dat het veel leuker en gezelliger is om huiskatje te worden, dan om terug naar de boerderij verder als half-zwerfkatje te gaan leven. Die boerderij blijft "plan B": eventueel mogen ze terug, en is er daar wel iemand die hen kan eten geven. Maar uiteindelijk een een bestaan als zwerfkat echt geen pretje (denk maar aan vrieskou, stormweer, moeilijker om gezondheid goed in 't oog te houden, enz), dus willen we toch echt nog proberen om ze te overtuigen van huiskatjes te worden.
Nu, hoe beginnen we daaraan?
Voor ze arriveerden is de logeerkamer omgebouwd tot een klein kitten-speel-paradijsje. Want voor een kat (klein of groot) is nu eenmaal het terroritium veel belangrijker dan het baasje. Dus alles wat een klein kattenhartje kan begeren is aanwezig: eten en drinken, en een toilet. Maar vooral ook veel verstopplekjes (oa een tunnel, een kartonnen doos, of gewoon "achter het logeerbed";), zachte kussentjes om op weg te dromen, en verschillende uitkijkpostjes (zowel klimpaal als een paar muurplankjes). En verder nog een paar speeltjes, maar die zijn voor de 1e dag eigenlijk nog het minst belangrijke.
En dan ga ik ze vooral de eerste paar dagen tijd geven om te wennen aan het nieuwe plekje. Ik ben weliswaar vaak "aanwezig" – ik zit nl enkele meters verder aan mijn bureel op PC te werken - maar ik ga nog niet onmiddellijk proberen strelen of dergelijke. Er hoeft helemaal nog niet gestreeld te worden voorlopig, enkel wennen aan het feit dat dat grote monster niet zo eng is als die eruit ziet. De eerste paar dagen is het nu afwachten hoe ze kleine mini-stapjes (vaak zijn het eerder micro-stapjes) nemen om beetje moediger te worden, en ze zullen wel aangeven wanneer ze klaar zijn voor een beetje interactie met zo'n groot 2-benig monster. Voorlopig kennen ze nog maar 1 spelletje: verstoppertje spelen. Maar dat mag.
Ondertussen heb ik wel alvast even een feliway verdamper ingestoken. Want hoe "vertel" je nu aan zo'n ukkies dat het hier echt wel veilig is? tja, hoe vertelt een kat dat de omgeving veilig is? Met geuren natuurlijk, want voor een kat is communicatie met geuren nu eenmaal de allerbelangrijkste vorm van communicatie. Een kat gaat "vertellen" dat een omgeving ok is door kopjes te geven tegen de meubels of deurstijlen, en zo haar geur aan te brengen. En dat is precies wat zo'n feliway doet: die verspreidt dezelfde geur.
En dan is het afwachten hoe de zaken gaan evolueren, want er is uiteindelijk helemaal geen garantie dat ons plannetje gaat lukken. De eerste paar dagen zal "geduld" het hoofdthema worden. Ook jullie gaan dus nog wel eventjes moeten wachten op een nieuwe update, maar ik hou jullie op de hoogte. Duimen jullie mee dat ik dit duo kan overhalen om flink te studeren voor "huiskatjes"? Dan kunnen ze over enige tijd ook op zoek gaan naar een gouden mandje.
Je kan hun verdere avonturen de komende weken volgen op de facebookpagina van De Koddige Katjes (https://www.facebook.com/dekoddigekatjes/) , of ook hier op de blog (http://www.dekoddigekatjes.be/apps/blog/)
 
Categorieën: Kittens
/