| | |
| --- | --- |
| Geplaatst op 1 juli, 2018 om 1:00 | |
Het is ondertussen alweer ruim een week geleden sinds de vorige aflevering, dus tijd voor een kleine update. Alles gaat hier zijn gewone gangetje. Ze leren nog steeds flink bij, maar weliswaar op hun eigen tempo. Zo bleek de TV toch wel een heel eng ding, en dus hebben ze eerst de woonkamer kunnen verkennen zonder TV, en pas toen ze daar op hun gemak waren ging de TV aan. En dan was die al veel minder eng. 1 stapje tegelijk he.
Ook hebben ze hun 2e bezoekje bij de dierenarts achter de rug. Dat wil zeggen dat ze nu helemaal in orde zijn om op zoek te gaan naar personeel: ze zijn gevaccineerd, gecastreerd/gesteriliseerd, ze hebben een chip en een paspoort, en ze hebben flink "aaaa" gezegd bij de dierenarts, die ze dan ook helemaal gezond heeft verklaard. Ze moeten natuurlijk nog wel over enkele weekjes hun 2e vaccinatie hebben (zo hoort dat nu eenmaal, daarna is het gewoon jaarlijks).
En dus zijn ze helemaal klaar om op zoek te gaan naar personeel. Ze zijn ondertussen wel al een stukje franker. Zo komen ze allebei regelmatig inspecteren wat ik daar toch aan die PC zit uit te spoken – ha, personeel zoeken natuurlijk. En dus beginnen ze ook stilaan self-service te houden en komen ze dus hun ontbijt zelf aan het buffet halen ipv netjes te wachten tot het wordt opgediend. Tja, als je niet wil dat een kat op tafel springt, dan kan je beter elders het ontbijt klaarmaken natuurlijk...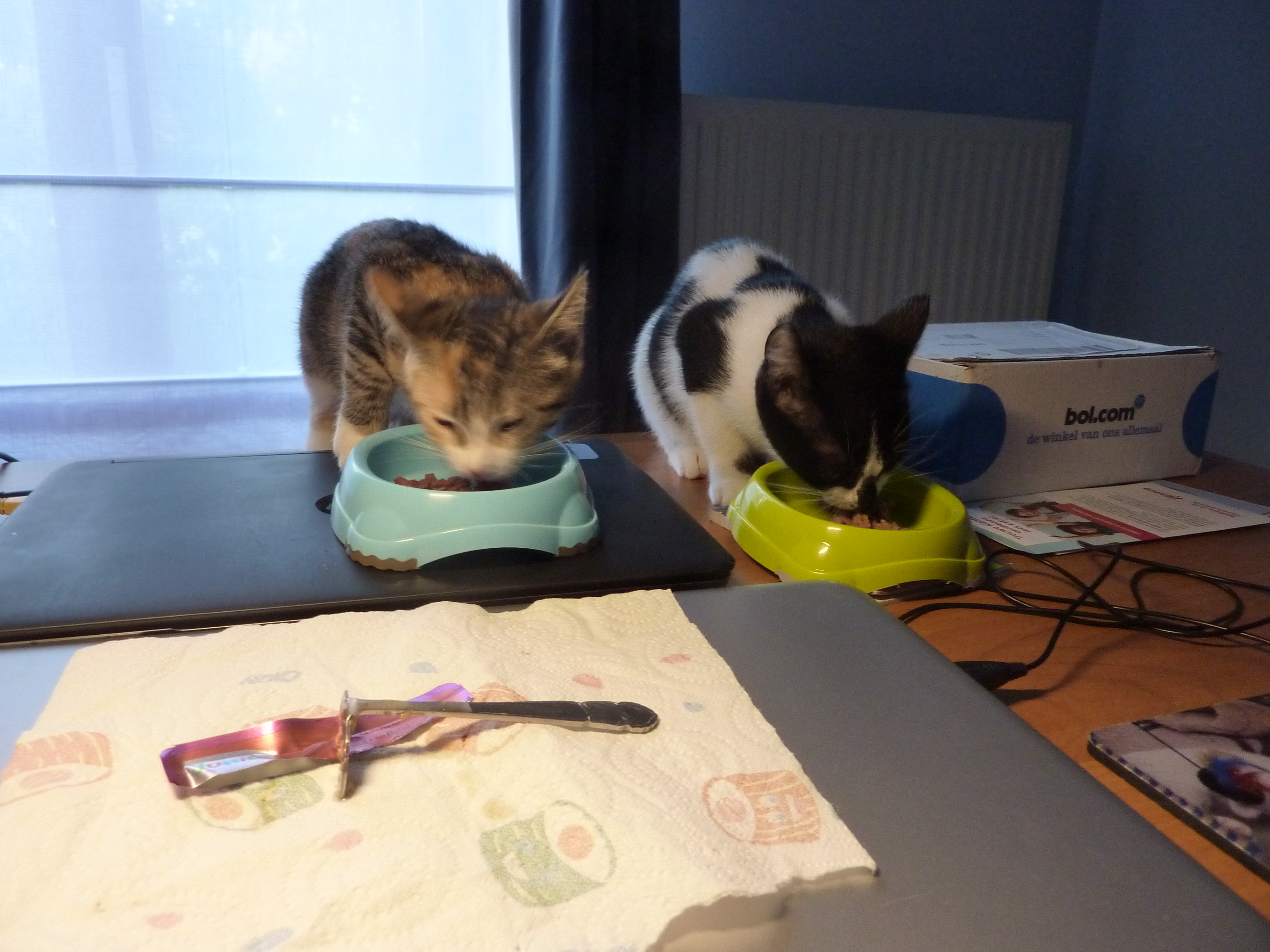 Enfin, we gaan dus op zoek naar personeel. De advertenties zijn geplaatst. Je kan ze hier nalezen: Lodewijk: https://dierenasiels.com/dier/dd522799-77dc-11e8-bcf9-5616fb2ebb49; en Suzie https://dierenasiels.com/dier/17c3c960-77dc-11e8-bcf9-5616fb2ebb49. En dan is het nu wachten op een goeie match. Want dat personeel willen ze wel voor de komende 15 tot 20 jaar in dienst houden natuurlijk, en dus kan je maar beter zorgen dat het echt goed klikt. In hun geval betekent een goeie match hetvolgende: een rustige thuis (geen drukke kleine kindjes), liefst met z'n tweetjes samen mogen blijven, of anders toch bij een andere jonge kat zodat ze dan elk toch weer een vriendje hebben om mee te ravotten. En verder mensen die het helemaal geweldig vinden om kleine bangerikjes langzaam aan te zien openbloeien, en die het dus ook geen drama vinden als er de eerste weken misschien nog niet geknuffeld wordt. Daar is nog tijd genoeg voor.
Om even dieper op dat match-making in te gaan, laat ons even de zaken omkeren, stel je wil een kat in huis, hoe vind je de juiste kat die bij je past?
De meeste mensen willen een kitten (de volwassen katten in het asiel worden in dit seizoen vaak helemaal over het hoofd gezien), en dan nog liefst eentje in hun favoriete kleur of met een leuke vachttekening. Maar als je niet verder kijkt, dan koop je op zo'n manier een kat in een zak... ook als je die in een transportbakje steekt. Dan heb je straks een kat die heel veel aandacht zoekt, terwijl jij misschien de hele dag uit huis bent, met als gevolg dat de kat het halve huis gaat slopen. Of omgekeerd, dan heb je een kat die wekenlang niet van onder de kast onderuit komt, terwijl de kindjes helemaal teleurgesteld zijn en zeuren dat die kat maar een stom beest is. Daar word je allemaal niet vrolijk van.
Dus, waar moet je wel op letten om echt een goeie match te vinden?
Zorg dat je de kat haalt bij een "betrouwbare bron". Dat kan zowel een asiel zijn als een betrouwbare fokker. In het laatste geval wil je dus ook mama poes zien, wil je zien hoe de kittens leven, of ze voldoende interactie met mensen hebben en of ze al gewend zijn aan zoveel mogelijk dingen de ze straks ook bij jou gaan tegenkomen (maw alle huiselijke geuren, geluiden, enz). En dat ze helemaal in orde zijn qua vaccinaties, castratie, chip, paspoort, en algemene gezondheid. OK, dat heeft nog niets met een "goede match" te maken, maar het is gewoon de basis voor al de rest.
Kitten of volwassen kat? Vooreerst, wees je bewust dat een kat 15 tot 20 jaar oud wordt, dus als je kiest voor een kitten, dan neem je een verantwoordelijkheid voor de eerstvolgende 20 jaar. Als je liever slechts 10 jaar vooruit kijkt, kies dan een kat van 10 jaar oud.
Een volwassen kat heeft ook het voordeel dat het karakter al gevormd is, dwz een rustige knuffelpoes zal niet plots een wildebras worden. Daarentegen kan een kitten qua karakter nog alle kanten uit, dat valt veel moeilijker te voorspellen of zo'n dreumes later liefst lui op schoot bij jou komt knuffelen, of liever de hele dag buiten muisjes gaat vangen.
Als je toch voor kittens gaat, neem er dan 2; broertjes of zusjes da's makkelijk. Of als je vorig jaar eentje hebt in huis gehaald, en daar nu een vriendje voor zoekt, dat kan ook. Als er maar samen kunnen spelen. Dat geldt ook als je zelf veel tijd hebt om samen te spelen, maar dat geldt natuurlijk nog meer wanneer je vaak uit huis bent om te gaan werken.
Is er veel drukte in huis (bv kinderen, en vriendjes van de kinderen die op bezoek komen), ga dan voor kittens die lekker frank zijn, en die zelf heel veel interactie met mensen zoeken. Het type dat spontaan langs je broekspijpen naar boven kruipt en zo. Hoewel je dat laatste wellicht ook niet echt wil aanmoedigen ;-)

Ben je zelf eerder een rustig type, en heeft jouw huis wel iets weg van een bibliotheek (qua rustige sfeer bedoel ik, boeken hoeft niet), dan kan je een goeie match zijn voor kittens zoals Lodewijk en Suzie. Die hebben nood aan een rustige omgeving om op hun eigen tempo open te bloeien. Die brengen zelf wel genoeg leven in de brouwerij.
Er komt eigenlijk nog veel meer bij kijken. Maar dan wordt dit bericht weer veel te lang. Het belangrijkste is dat je goed nadenkt over zowel korte als lange termijn. En dat je daarbij vooral rekening houdt met karakter (van de kat, jezelf, en de andere huisgenoten) en omgeving. En dan mag je natuurlijk nog verliefd worden op dat leuke snoetje en die leuke vachttekening.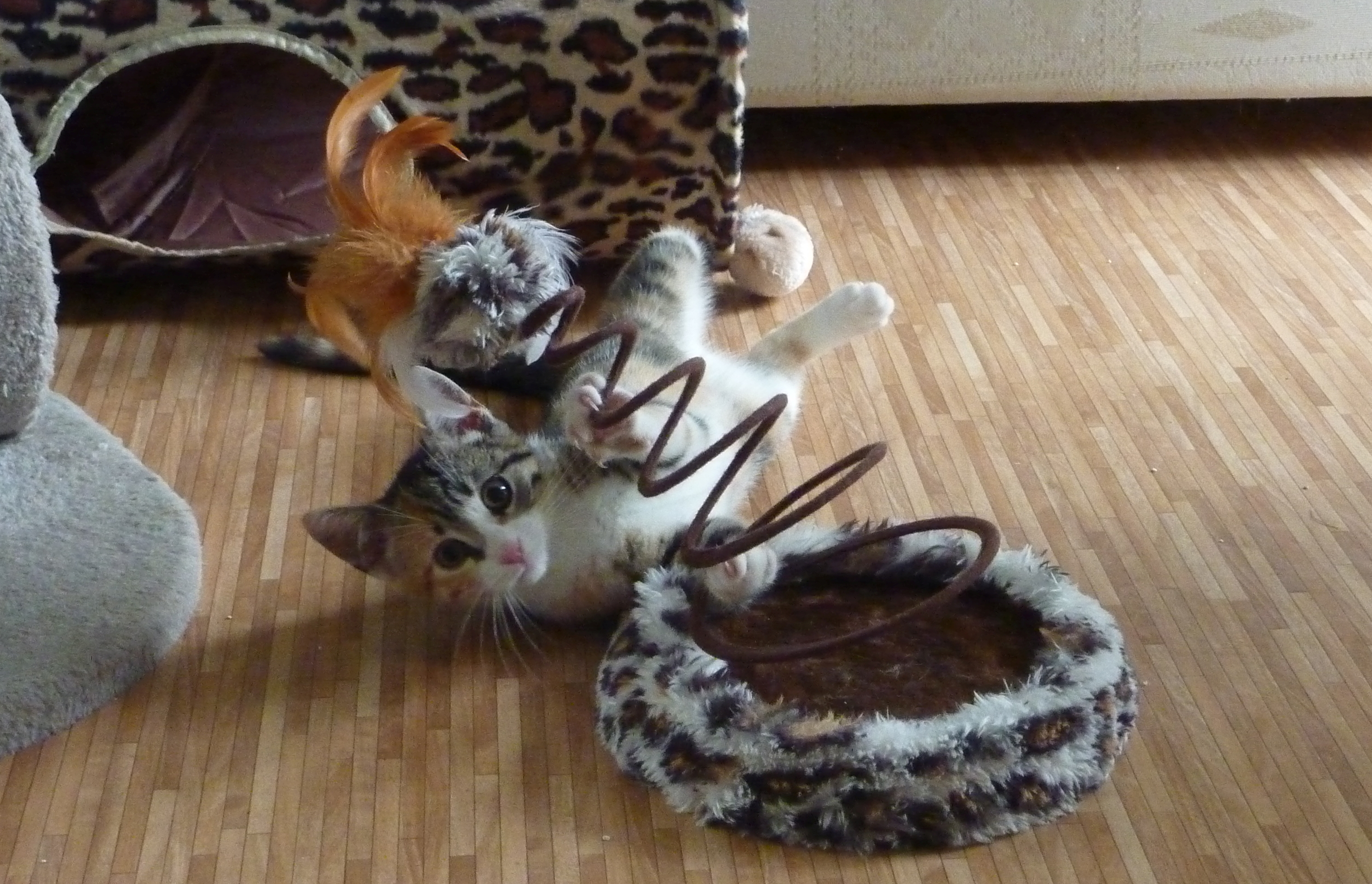 Categorieën: Kittens, Algemene tips voor kattenpersoneel
/