| | |
| --- | --- |
| Geplaatst op 19 juli, 2018 om 14:35 | |
Lodewijk en Suzie (ze eerdere afleveringen van de blog) hebben ondertussen hun gouden mandje gevonden, en hebben het daar helemaal naar hun zin. En enkele dagen nadat zij vertrokken waren, werd de logeerkamer alweer geboekt door opvolgertjes: 4 stuks dit keer.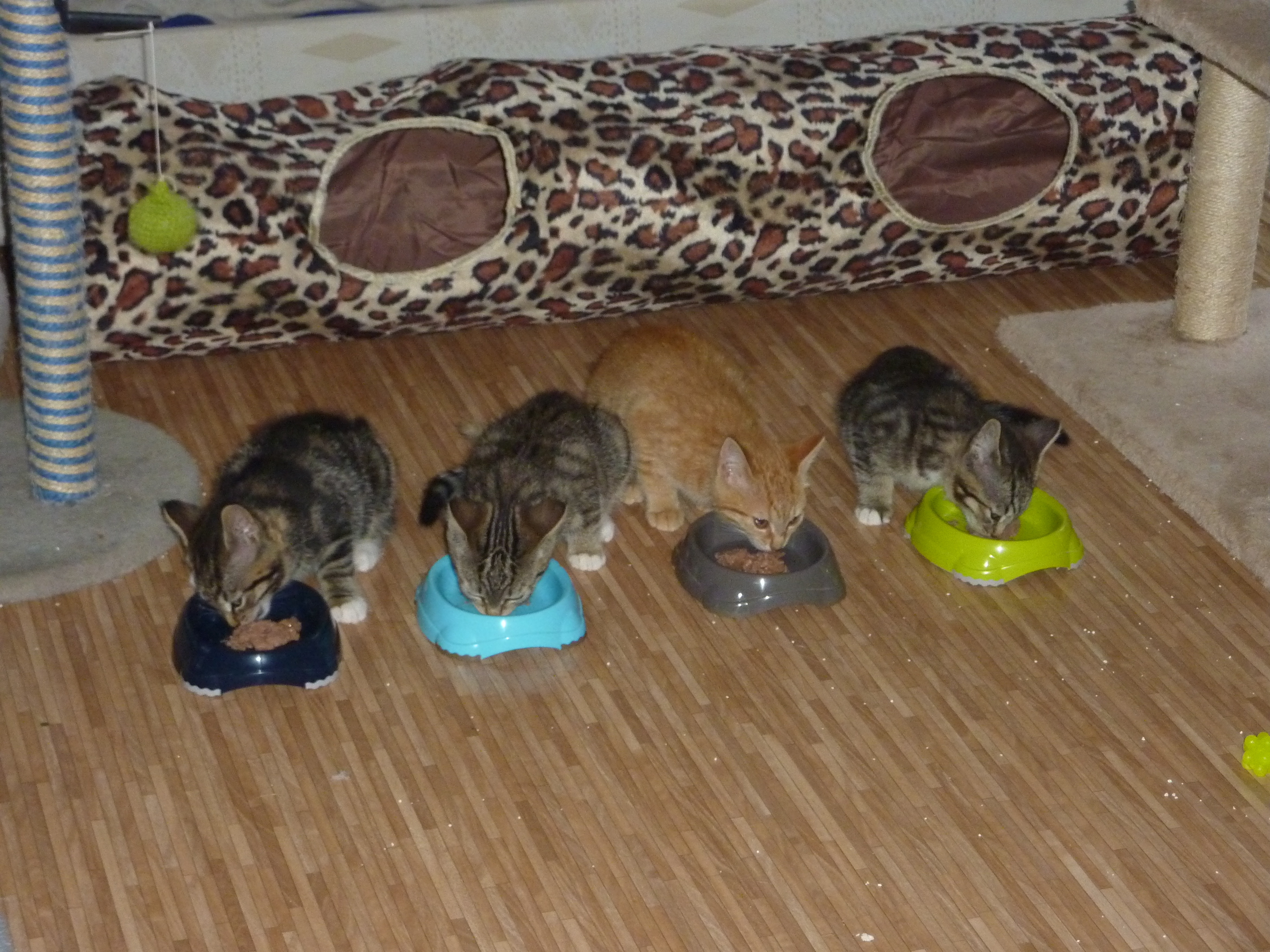 Dus bij deze wil ik jullie graag voorstellen aan Ed & Willem en Myra & Martha. 't Is nog even een gokje met de namen, want er is een zeker risico dat ik niet helemaal juist heb gekeken bij het "even staartje optillen". 't Is ook niet evident als je dat moet doen in volle actie tijdens het spelen. Want net als de meeste van mijn logeetjes, zijn ze op dit moment nog te bang om even rustig op te pakken en te knuffelen.
Ze zijn hier ondertussen een goeie week, en ze hebben al flink vorderingen gemaakt met de studies om allemaal gezellige huispoesjes te worden, zoals je ook op de foto's kan zien. Een goeie gelegenheid om even te overlopen wat er zoal in hun lesprogramma zit:
De kattenbak leren gebruiken. Nu ja, da's poepsimpel. Dat kan iedereen, daar hoef je niet voor te studeren. Was dus ook vanaf dag 1 geen probleem.
Tip: mits er geen bloempotten of derg in de kamer staan, en dus de kattenbak het meest aantrekkelijke plekje is voor de kleine en grote boodschap, hoef je daar helemaal niets voor te doen. Dat vinden ze vanzelf wel.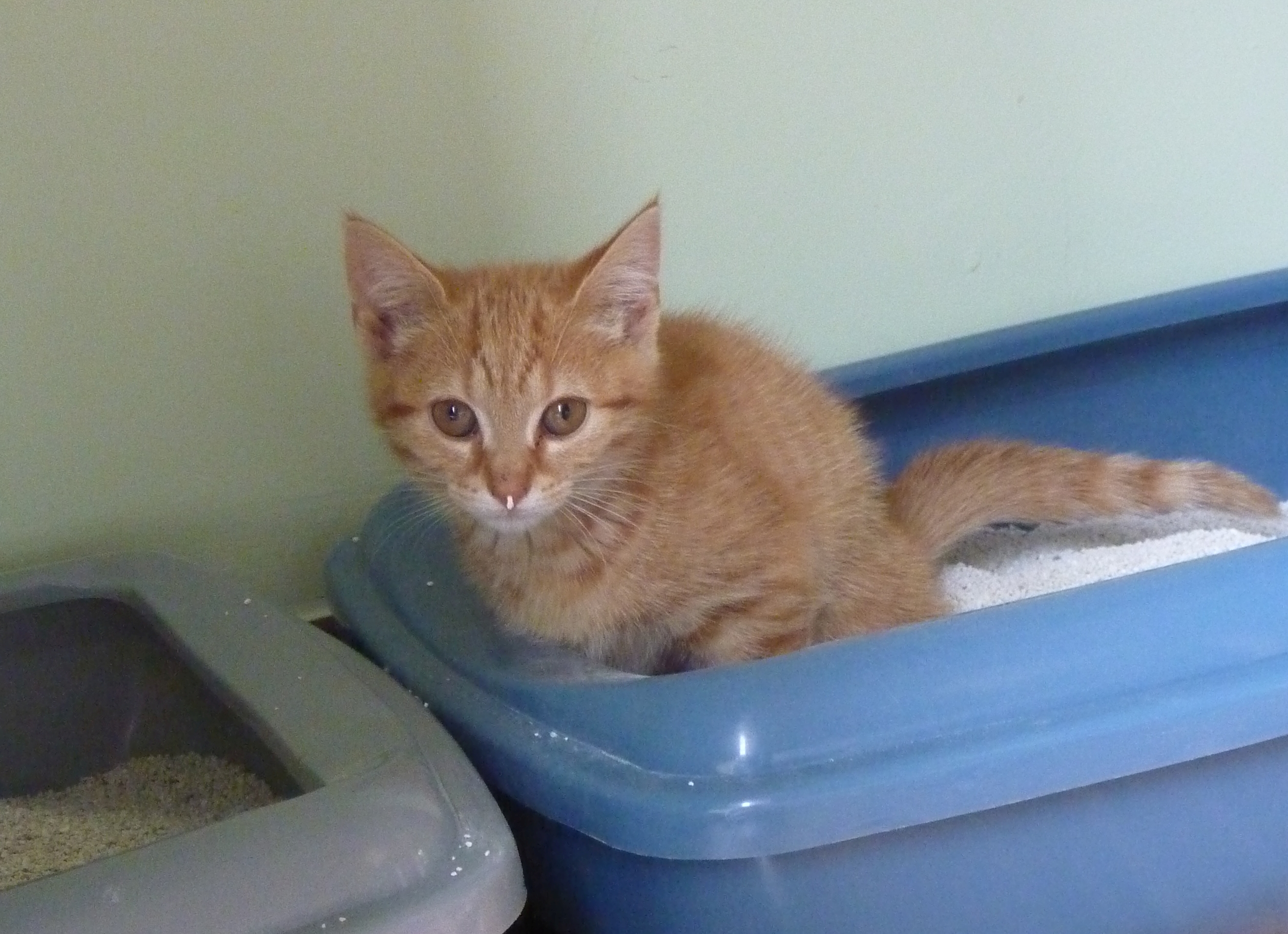 Flink bordje leegeten. Ha ja, we willen gezonde poesjes met een gezonde eetlust. Dus dat wordt ook nauwgezet in het oog gehouden. Bij deze 4 alvast geen enkel probleem. Integendeel, 't zijn schrokkopjes, ze eten de oren van mijn kop.
Elk eigen bordje leegeten, en niet gaan pikken bij het bordje van broer of zus. Belangrijk als je zoals vanmorgen pilletje moet nemen (ze hebben vanmorgen flink elk hun ontwormingspilletje binnengekregen)
Niet bang zijn van gewone geluiden in huis, zoals radio/TV, stofzuiger, wasmachine, douche, enz. Ha ja, net daarom komen ze bij mij logeren, ipv in het asiel te blijven.
Niet bang zijn van geuren in huis. Hela... niet gaan denken dat het hier stinkt bij mij he; maar binnen in huis hangen nu eenmaal andere geurtjes dan buiten in de vrije natuur.
Niet bang zijn van "nieuwe dingen". Dus moedig verkennertje spelen wanneer je uitbreiding krijgt van het territorium, nieuwe leuke speeltjes ontdekken (liefst dus elke dag afwisselen), enz. Elke dag valt er wel iets nieuws te beleven, en op die manier worden "nieuwe dingen" in 't algemeen ook minder eng.
Niet bang zijn van het personeel. Da's best wel spannend, maar da's nu eenmaal de basis voor 101 andere puntjes. Deze les wordt altijd opgesplitst in kleinere stapjes: niet verstoppen als het personeel de kamer binnenkomt, bordje leegeten terwijl het personeel toekijkt, self-service houden wanneer het eten wordt klaargemaakt, lekker in de weg lopen als het personeel aan de PC zit, enz.
De krabpaal leren gebruiken.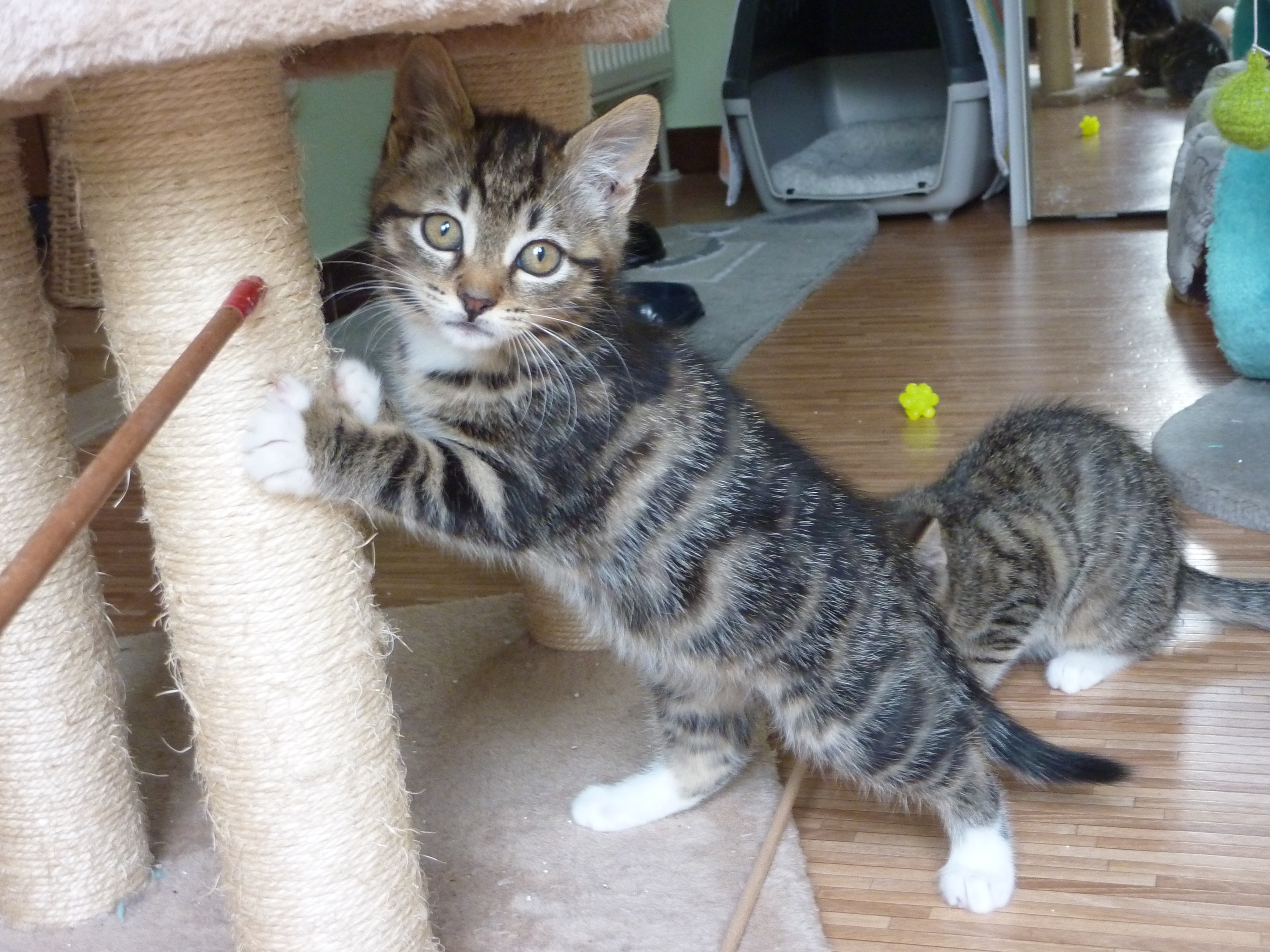 Strelen en knuffelen.... wat eigenlijk al een beetje oefeningetje voor gevorderde poesjes is. althans als je als klein poesje lekker "op den buiten" hebt gewoond en nauwelijks mensen gezien hebt. Maw deze les wordt vaak niet helemaal afgewerkt tijdens de logeerperiode. Maar deze 4 zijn toch al op de goeie weg.
En dan zijn er dus nog een hele hoop dingen waar we ofwel niet aan toe gaan komen omdat het nu eenmaal "voor gevorderde kleine poesjes" is, ofwel omdat er op het logeeradres gewoon te weinig gelegenheid voor is, dus dat gaat op het to-do-lijstje voor de nieuwe baasjes. Een greep uit de "oefeningetjes voor gevorderde poesjes":
Knuffelen
Opgepakt worden
Borstelbeurt (zeker voor langharige poesjes)
Wennen aan vreemde mensen: grote mensen en kleine mensjes, dikke en dunne, met bril, snor, baard, met hoge stem of met diepe stem, enz.
Zonder stress in het transportbakje gaan en vervolgens in de auto. Een bezoekje aan de dierenarts is al stressvol genoeg – jij gaat zelf toch ook niet graag naar de tandarts he. En dus is het belangrijk dat tenminste het tripje er naartoe al niet te stressvol is. Dat is natuurlijk wel een oefeningetje waar wat meer tijd voor nodig is, dus dat krijgen we in de logeerperiode nooit voor mekaar. Een eerste stapje is te zorgen dat het transportbakje altijd in de kamer staat. Dan is daar verder niets "engs" aan, en heeft dat ook al het vertrouwde eigen geurtje wanneer je naar de dierenarts moet.
Komen als je baasje je naam roept. Heel handig als je straks vrij mogen gaan buitenspelen, want je wil wel 's avonds op tijd thuis zijn als het diner wordt opgediend.
"zeg eens aaaa".... of maw wennen aan de typische handelingen die de dierenarts later zal doen, zoals naar de tandjes kijken, in de oortjes kijken, nageltjes knippen, ...
Dus, zei er iemand dat je een kat niets kan leren? Niets is minder waar. Er valt zoveel te leren. En jong geleerd is oud gedaan, of maw, je kan er best zo vroeg mogelijk mee beginnen. Is jouw kat al volwassen? geen paniek, ook dan kan je nog best heel wat aanleren.
Als je over dit alles meer wil weten, dan zijn de volgende 2 boeken absolute aanraders:
Liesbeth Puts, "Kattig of poeslief? Opvoedgids voor kittens"
Sarah Ellis, John Bradshaw, "Zo train je je kat" (oorspronkelijke titel: "The trainable cat" )

Zo, dat was het weer voor vandaag. Wij gaan nog wat verder oefenen...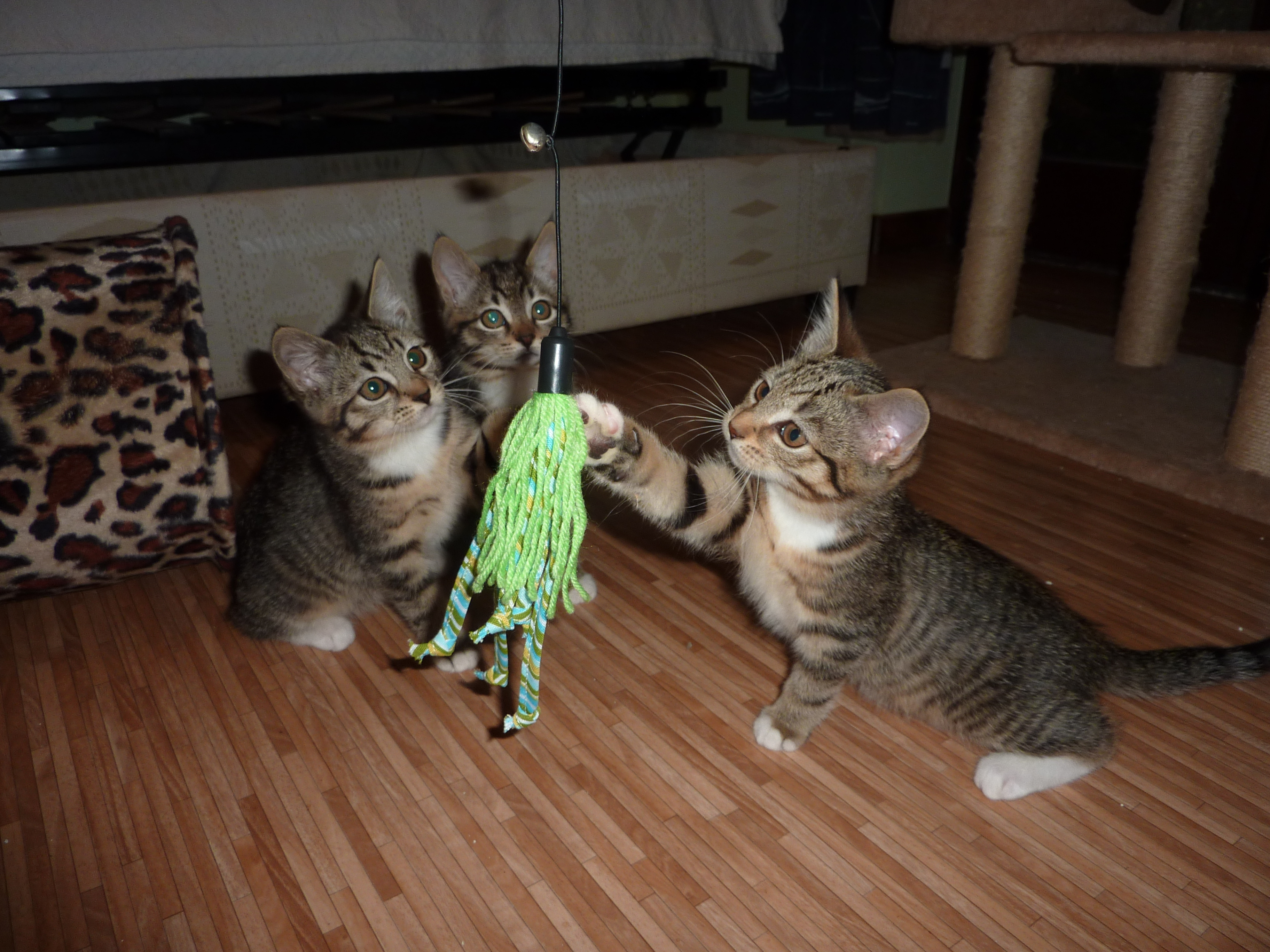 Categorieën: Kittens, Algemene tips voor kattenpersoneel
/