| | |
| --- | --- |
| Geplaatst op 28 november, 2018 om 13:35 | |
Mijn 3 laatste deugnietjes, Asterix, Obelix en Idefix, hebben ondertussen hun gouden mandje gevonden, maar jullie hadden nog een klein verhaaltje van hen tegoed.
Ik moet toegeven, 't is de eerste keer dat ik het meemaakte, maar dit trio heeft me een paar keer proberen duidelijk te maken dat ze een klein probleempje hadden. Zie foto.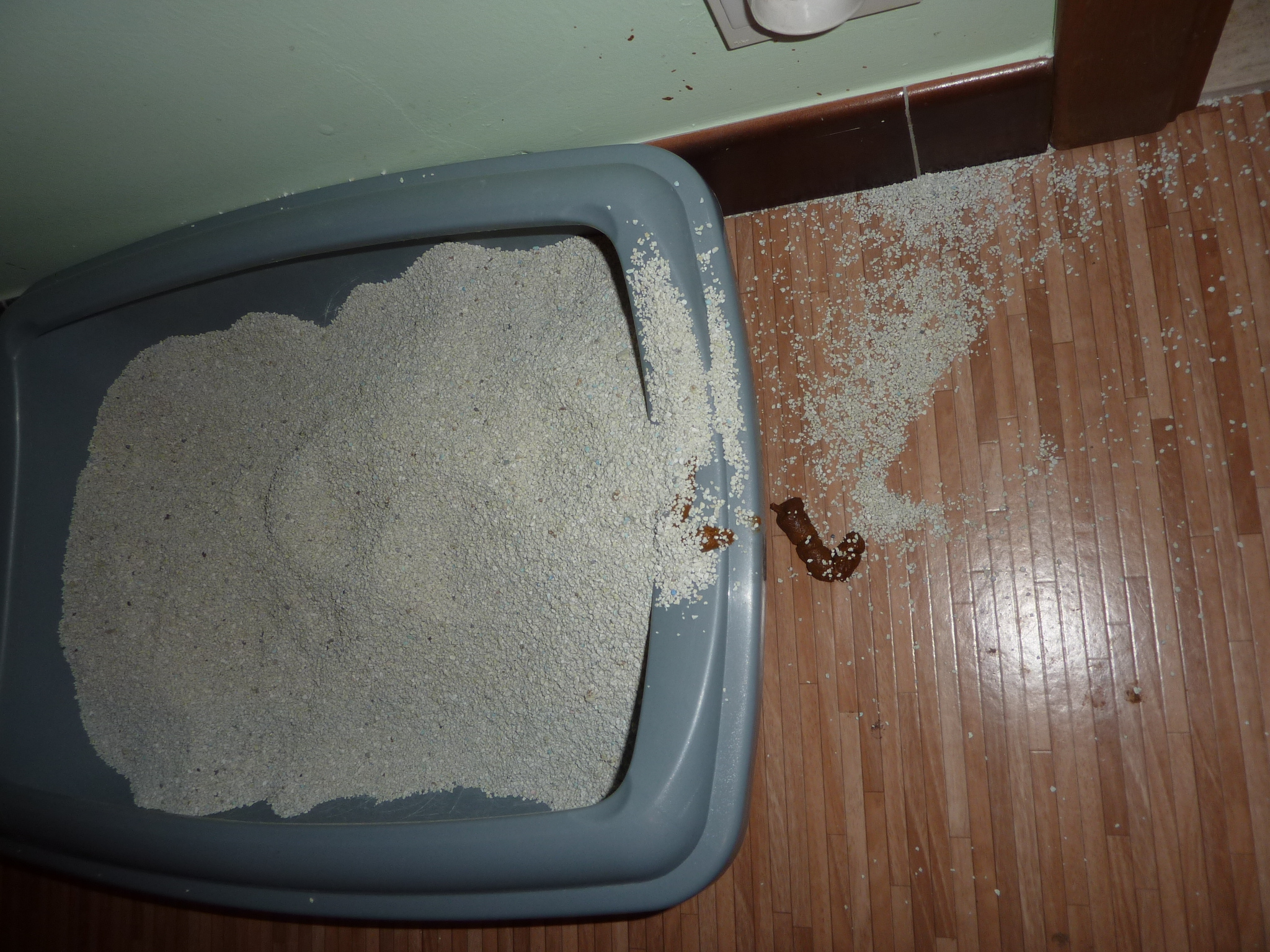 Wat natuurlijk een mooie aanleiding is om het nog eens over grote en kleine probleempjes met de kattenbak te hebben. Dat had ik in een eerdere aflevering (zie aflevering van 19 aug 2018) nog beloofd. Je ziet het zo vaak op sociale media, en ik krijg ook af en toe wel eens de vraag: hullep, mijn kat plast naast de bak, hoe kan ik dat oplossen?
Tja, alle goeie en minder goeie adviezen op facebook ten spijt, er bestaat nu eenmaal geen pasklaar antwoord op die vraag. Eigenlijk heb je vooral een "crime scene investigator" nodig, om het probleem ter plaatse te bekijken, en een voor een alle mogelijke oorzaken uit te sluiten. En dat zijn er nogal wat... reken maar een stuk of 100 of zo... Dus nee, als je thuis een probleem hebt met de kattenbak, dan heb ik geen pasklare oplossing. Ik kan wel een tipje van de sluier oplichten, zodat je een idee hebt waar je moet beginnen speuren.
Eerst en vooral moet je een tripje naar de dierenarts inplannen. Want voor je aan andere dingen denkt, moet je echt uitsluiten dat er medische problemen zijn. Dus een grondig onderzoek is aangewezen. Onlangs las ik een verhaal van een kat die de kleine boodschappen wel in de bak deed, maar de grote boodschap buiten de bak. En dat bleek uiteindelijk veroorzaakt te zijn door een probleem van blaasgruis. Wat de dierenarts aanvankelijk had weggewimpeld met het argument "dan zou hij ook buiten de bak plassen". Dus eerste opdracht is om je kat grondig medisch te laten onderzoeken.
En dan is er de enorm grote categorie van oorzaken die draaien rond stress. En voor een stress-beest als een kat, zijn dat er nogal wat: foutjes in de inrichting van het territorium, onvoldoende toegang tot eten of drinken, heibel met andere katten (ook als ze verder niet vechten of zo), teveel drukte in huis, recente veranderingen (verhuis, nieuwe huisgenoot, baby in huis, enz). Het is vooral hier dat je die detective-vaardigheden voor nodig hebt. Het goeie nieuws: veel van die stress-oorzaken zijn met kleine aanpassingen in huis makkelijk op te lossen. Meestal zijn de mensen zich niet bewust van wat er eigenlijk fout zit. Als je hiervoor inspiratie zoekt, dan nodig ik je graag uit op mijn lezing over "Het territorium van de kat – interieurtips voor kattenpersoneel". Daarin heb ik het precies over dit soort dingen. Ook de lezing over "bange katjes en socialisatie" kan je verdere inspiratie geven waar je moet beginnen zoeken.
Een klein – maar echt heel klein – onderdeeltje uit de stress-categorie gaat over problemen met de kattenbak zelf. En daarmee zijn we terug bij mijn kleine logeetjes, die hun grote boodschap (heel af en toe, 1 keer per week of zo) eens net naast de bak deponeren. Ik kan het natuurlijk niet met zekerheid zeggen (want ze zijn hier slechts 2,5 weken geweest, en dus konden ook nog allerhande stressfactoren meespelen), maar een kakje zo vlak naast de bak, met nog wat strooisel errond, lijkt mij een mooi voorbeeld van "beste personeel, we hebben een grotere kattenbak nodig, we moeten te hard ons best doen om te mikken".
Alle gekheid op een stokje, men denkt vaak als 1e aan "ander strooisel gebruiken", maar er kan met een kattenbak nog heel wat anders mis zijn: hij kan op de foute plaats staan, het foute model hebben, niet groot genoeg zijn, niet proper genoeg zijn, er kunnen te weinig bakken in huis zijn, en ja, er kan dus ook een probleempje zijn met het type strooisel of de hoeveelheid strooisel, maar dat hadden we dus al. In het geval van mijn logeetjes denk ik dat er 2 opties "meer waarschijnlijk" zijn als oorzaak: ofwel zijn ze uit de huidige bak "uitgegroeid", maw de bak is beetje te klein geworden. De vuistregel is dat de bak min 1,5 de lengte van de kat moet hebben, wat betekent dat de meeste kattenbakken in de handel idd te klein zijn voor een gemiddelde volwassen kat. Nu vind ik persoonlijk wel een beetje dat mijn logeetjes wat overdrijven, want ze zijn pas 3 maand oud, dus bijlange nog niet volgroeid. Maar goed, wie ben ik? Een 2e mogelijke oorzaak in dit geval, is dat ze ietsje te fanatiek proberen hun kakjes te bedekken onder strooisel, en daarmee kakje en al buiten de bak sjotten. Een medisch probleempje lijkt me in dit geval eerder onwaarschijnlijk. Dus ja, ik spreek mezelf een beetje tegen in dit geval, door niet eerst grondig medisch onderzoek te laten doen. Maar dat is wel doordacht omdat het probleempje in 2,5 weken dat ze hier zijn nog maar 2 of 3 keer is voorgekomen, en de vermoedelijke oorzaken kunnen in dit geval vrij makkelijk aangepakt worden, dus heeft het zin om nog eventjes te testen of die oplossingen werken.
Zo, de adoptanten van deze 3 bandietekes krijgen van mij in elk geval het advies om een extra grote bak in huis te halen, evt met hoge randen (tegen het fanatiek ondergraven). Maar bij deze was het een mooie aanleiding om jullie even in te leiden in "de mysteries van de kattenbak".
Conclusie: als je kat plots "ongelukjes" doet naast de bak: eerst naar de dierenarts, en indien die geen oorzaak kan vinden, dan kan je zelf gaan detective spelen, of natuurlijk een professionele detective (kattengedragstherapeut) inschakelen. Laat je kat er niet mee rondlopen, want die wordt er ook niet vrolijk van.
In dit geval vonden de kleintjes het allemaal niet zo'n probleem, en dus werd er na even poetsen weer vrolijk verder gespeeld.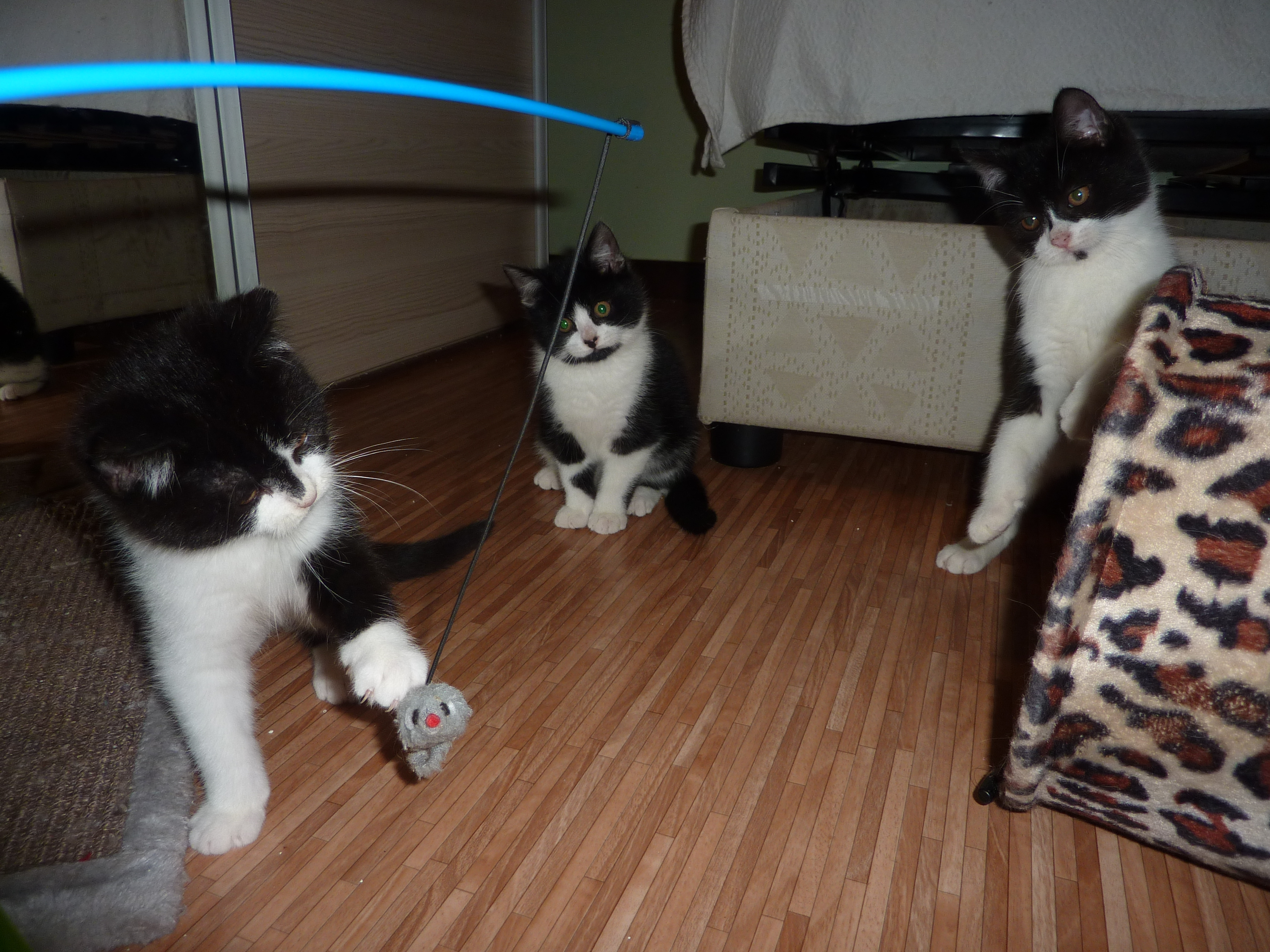 Categorieën: Algemene tips voor kattenpersoneel, Kattengedrag algemeen, Kittens
/