| | |
| --- | --- |
| Geplaatst op 30 december, 2018 om 10:30 | |
Hé, wat? Een blog over vieze kriebelbeestjes, in putje winter? Jawel. Vroeger (nog voor er sprake was van logeetjes) had ik de gewoonte om mijn katten enkel een antivlooienbehandeling te geven tijdens de lente en zomer, tot ik ooit in februari toch wat gekriebel spotte en er eentje dan ook nog eens een vlooienallergie ontwikkelde. Sindsdien wordt het afweergeschut tegen kriebelbeestjes ook in de winter bovengehaald.

Vieze kriebelbeestjes... waar denk je dan aan?
Vooreerst zijn er natuurlijk de vlooien. Normaal geen reden tot paniek, hoewel... als een klein kitten een kroostrijke familie vlo meedraagt, dan kan dat best wel eens ernstig zijn. Maar goed, vlooien: daar weten we wel raad mee. Het hoort bij de 'standaardprocedure' dat elk kitten dat mijn logeerkamer binnenkomt een ontvlooiing krijgt. Natuurlijk met het juiste ontvlooiingsmiddel, aangepast aan gewicht en leeftijd. En vermits ik vooral bangerikjes krijg, die zich de eerste dagen/weken nog niet laten vastpakken, krijgen die een kleine "koude douche" met een spray van antivlooienmiddel. Niet leuk als welkomstcadeautje, maar dan zijn ze er wel ineens vanaf.
Later als ze groot en sterk – en vooral minder bang - zijn, dan is een pipetje meer aangewezen. Vlooienbandjes vind ik zelf niet zo'n goed idee, want net als halsbandjes kunnen ze daarmee ergens achter blijven hangen en dat kan echt helemaal fout aflopen.
De meeste van die anti-vlooienmiddelen werken trouwens ook tegen teken, hoewel het ene duidelijk beter werkt dan het andere. En teken, die wil je natuurlijk ook niet over de vloer. Da's weer een hoofdstuk op zich.
Volgende categorie kriebelbeestjes: oormijt. Komt eigenlijk veel minder voor, en dus passen we voor de opvangkittens geen 'standaardprocedure' preventief toe, maar ALS we die beestjes spotten, dan wordt er natuurlijk onmiddellijk ingegrepen. Ook redelijk makkelijk onder controle te krijgen, dus daar hoef ik niet veel woorden aan vuil te maken. Vieze oortjes? De kat die voortdurend aan de oren krabt? Toch maar checken... want voor de kat is het heel erg vervelend... denk je maar eens in dat er heel de tijd vanalles in je oren zit rond te kruipen... brrr...
En dan heb je nog die zeer populaire categorie van de wormen. Dit jaar in oktober had ik weer prijs. Ik kom 's morgens in de logeerkamer, vind een klein plasje braaksel (eek), waar dan ook nog eens 3 spoelwormen in zwemmen (EEK!). Tja, 't is niet de eerste keer dat ik met mijn opvangertjes zoiets aantref, maar 't is niet leuk natuurlijk. Gelukkig hadden ze die dag net afspraak bij de dierenarts voor knipje en chipje, dus hebben we daar ineens maar nog een ontworming bovenop gedaan. Sindsdien geen vieze beesten meer gezien.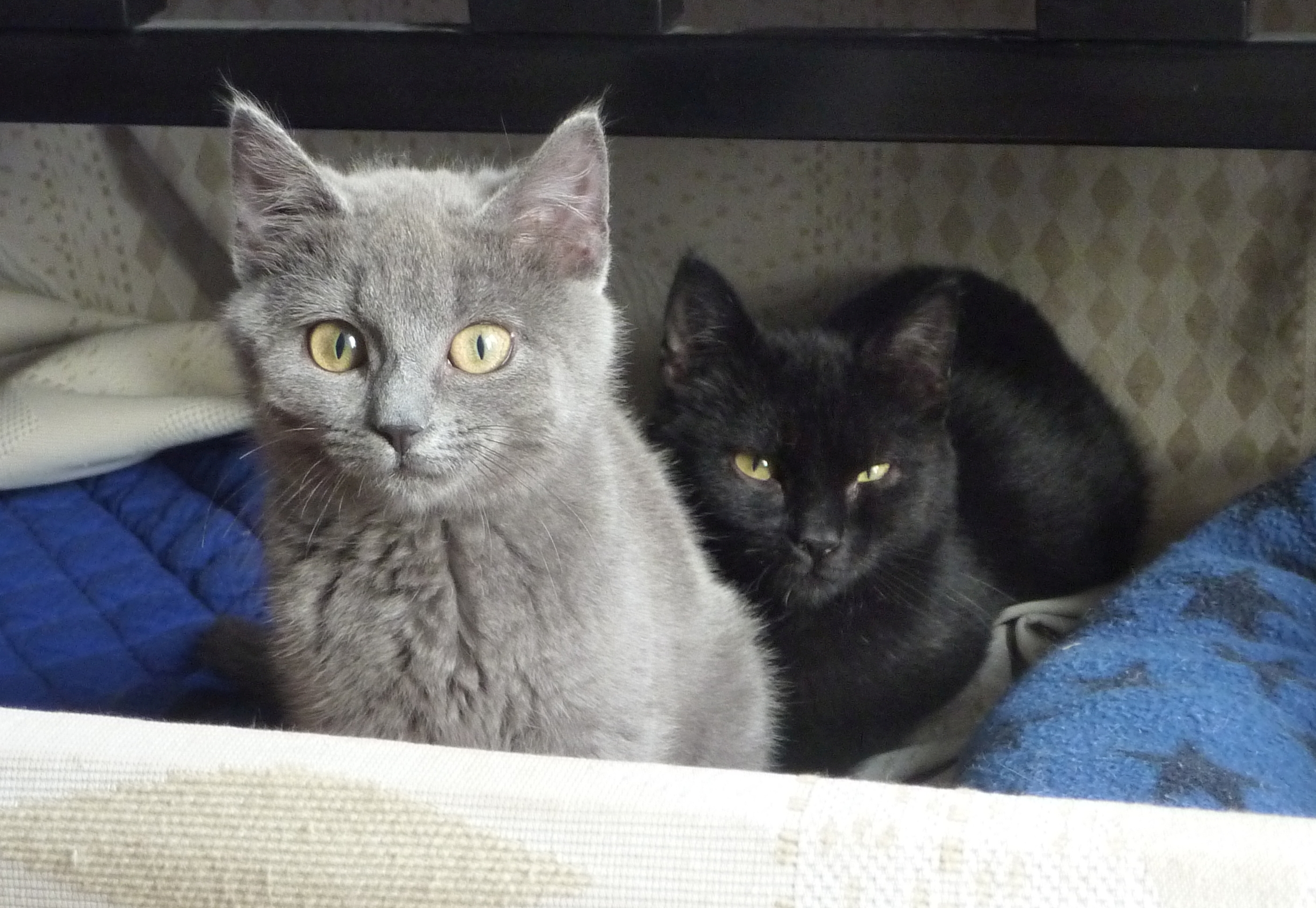 schattige kittens, met niet-zo-schattige verstekelingen in het buikje...

Kittens met opgeblazen buikje? Platte kakjes? Yep, haal maar een ontwormingspilletje boven. Alle opvangertjes krijgen trouwens standaard sowieso een ontworming. De meeste zwerfkittens hebben wel wat verstekelingen aan boord. In de ergste gevalletjes zoals net beschreven, komen die er zelfs niet langs achter maar langs voor uit. Maar geen paniek, ook dit krijg je makkelijk onder controle. Al is vaak wel een tweede of derde ontwormingsbeurt nodig om de hele kolonie grondig uitgeroeid te krijgen.
Tenslotte, heel erg vervelend maar ook niet levensbedreigend: schimmel. Veel lastiger dan vlooien en wormen, want het is heel erg moeilijk onder controle te krijgen. Niet alleen is de behandeling duur en de schimmel hardnekkig, het is ook nog extreem besmettelijk, zelfs naar mensen toe (ook bekend als ringworm of catarina wiel). Vorig jaar rond deze tijd had ik prijs ... Dat heeft veel bloed, zweet en tranen gekost. En veel poetsen. Maar omdat die kittens dan ook wat langer moesten blijven logeren - natuurlijk zetten we geen beschimmelde kittens ter adoptie - zijn we qua socialisatie wel een heel stukje verder geraakt. Alles heeft zijn voordeel. Ik kan jullie geruststellen: dit komt veel minder voor, hoewel we in de specifieke situatie van verwaarloosde kittens uit de groepjes zwerfkatten bij de gastgezinnen zo typisch wel één nestje per jaar zien... da's dus één nestje op ongeveer 300 kittens hé, en uit een populatie met duidelijk verhoogd risico.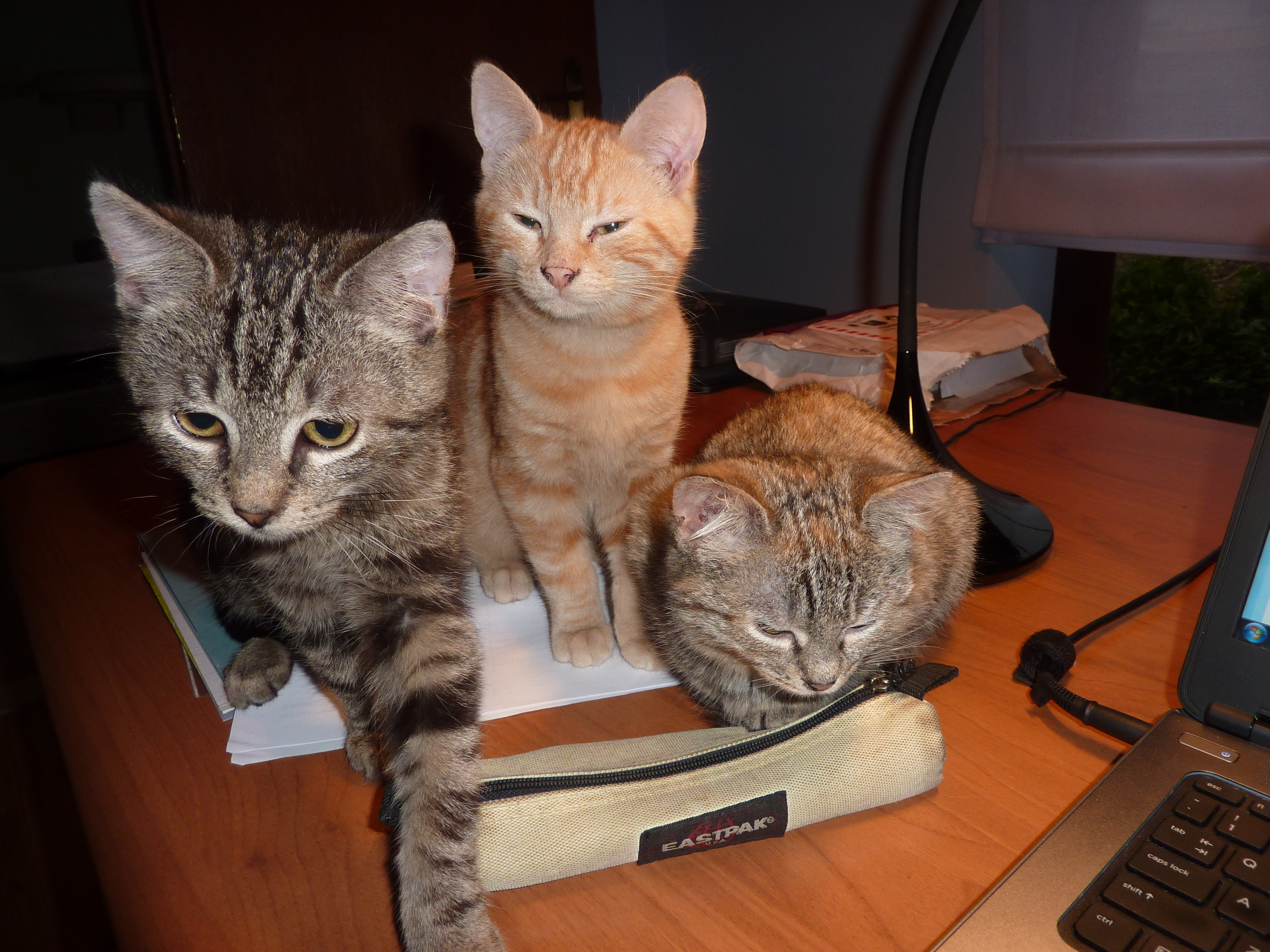 schimmelvrije kittens, die ondertussen wegens langdurige behandeling extra gesocialiseerd zijn
Nog eentje in deze familie, die toch wel een vermelding verdient: toxoplasmose. Da's dat ding waar zwangere vrouwen terecht bang voor zijn. Maar... je hoeft echt niet je kat naar het asiel te brengen omdat je zwanger bent. Dat slaat nergens op. Er zijn onnoemelijk veel andere risicofactoren (rauw vlees, rauwe groenten, alle voedingsmiddelen waar rauwe eieren in verwerkt zijn, werken in de tuin, enz...) en daar doet niemand gek over. Maar die kat, die moet plots naar het asiel? Overigens, de uitwerpselen van de kat worden pas besmettelijk na meer dan 24u of 48u uit het lichaam van de kat, en ik hoop dat je de kattenbak toch vaker dan om de 48u uitschept. Voor extra veiligheid kan je natuurlijk wel handschoenen dragen bij dit klusje, of het tijdelijk overlaten aan de aankomende vader... mooie voorbereiding op straks luiers verschonen.
Als toemaatje nog eentje voor de paardenliefhebbers onder jullie: paarden hebben geen vlooien (vraag me niet waarom), maar paarden kunnen wel luizen hebben. Het komt vooral voor tegen het einde van de winter, maar ik heb het ook al wel in begin van de winter meegemaakt. In elk geval wanneer de paarden hun winterpels hebben. En net als bij luizen in de school is het niet noodzakelijk gerelateerd aan (gebrek aan) hygiëne, maar wel behoorlijk besmettelijk. Oplossing: het paard helemaal wassen met een speciaal product (ook weer door de dierenarts voorgeschreven natuurlijk). Dat is geen pretje in putteke winter, ik weet waarover ik spreek. Als blijkt dat je paard er gevoelig voor is – of bv omdat hij nu eenmaal de dikste pels in de kudde heeft, en dus extra aantrekkelijk is als hotel voor familie luis - dan kan je ook preventief behandelen. Er bestaan geen pipetjes voor paarden, maar mijn paard heeft van zijn dokter pipetjes voor grote honden voorgeschreven gekregen. En dat werkt! Er hangt ook wel een prijskaartje aan, want je moet dan drie pipetjes geven per keer. Ha ja, zo'n paard is nog altijd wel een maatje groter dan een grote hond.
Terug naar de katjes, als samenvatting nog wat praktisch advies op een rijtje
Vieze beestjes zijn echt geen pretje, en het kost eigenlijk heel weinig moeite om die te slim af te zijn door preventief te behandelen. Dat wil bv ook zeggen dat je best ook ontvlooing doorgeeft in de winter. Gewoon doen! (oeps, da's geen politieke slogan, hé
Voor ontvlooiingen (en ander anti-kriebelbeestjes-spul): vraag raad aan je dierenarts en ga vooral niet voor een of ander goedkoop middeltje uit een goedkope winkel. En ook: geen hondenmiddel gebruiken bij katten! Er is een ruime keuze aan degelijke middelen bij de dierenarts of apotheker. Afhankelijk van het merk en het type moet je dat maandelijks geven, of driemaandelijks. Sommige middelen combineren ontvlooiing met ontworming, zodat je daarvoor geen afzonderlijk pilletje meer moet geven. Handig toch.
Mocht je kat enigszins allergisch reageren op zo'n middeltje (bv. door haaruitval op de plek waar je het hebt aangebracht), dan betekent dat niet dat alle anti-vlooienmiddelen vergif zijn voor alle katten. Je leest nogal wat op sociale media ... Het kan inderdaad zijn dat er een kat rondloopt die allergisch reageert op een bepaald product, maar dat wil niet zeggen dat elk ontvlooiings- of ontwormingsproduct rotzooi is. Kijk, ikzelf heb een allergie aan wijn – niet leuk. Maar ik ga niet lopen verkondigen op sociale media dat alle wijn rotzooi is he. Neem gerust een slokje en laat het smaken. Let wel op met goedkoop spul – geldt ook voor wijn, maar daar gaat het nu even niet over - en check of het product geschikt is voor katten (geen product voor honden gebruiken).
Nog eentje, niet onbelangrijk: veel van die middelen zijn bedoeld voor een bepaald gewicht van kat, dus je hebt een ander middel of dosering nodig voor een kitten van 1 kg, een kleine kat van 3 kg, of een dikkerdje van 6 kg. Logisch toch. Je geeft een kind van 6 jaar ook niet dezelfde dosis medicatie als een stevige bouwvakker van 80 kg.
Als het te laat is, m.a.w. als je niet preventief hebt behandeld en je zit met een vlooienplaag in huis, besef dan dat 90% van het onheil niet op de kat zit, maar in je huis (tapijten, mandjes, enz.). Dus je moet vooral je huis onder handen nemen. Daar zijn dan weer andere middelen voor.



Voilà, daarmee sluit ik af en wens ik alle koddige katjes een vrolijk 2019, zonder vieze kriebelbeestjes. Het personeel heeft bij deze alle nodige instructies om dat voor mekaar te krijgen ;-)

Categorieën: Algemene tips voor kattenpersoneel

0

/