| | |
| --- | --- |
| Geplaatst op 23 januari, 2020 om 11:00 | |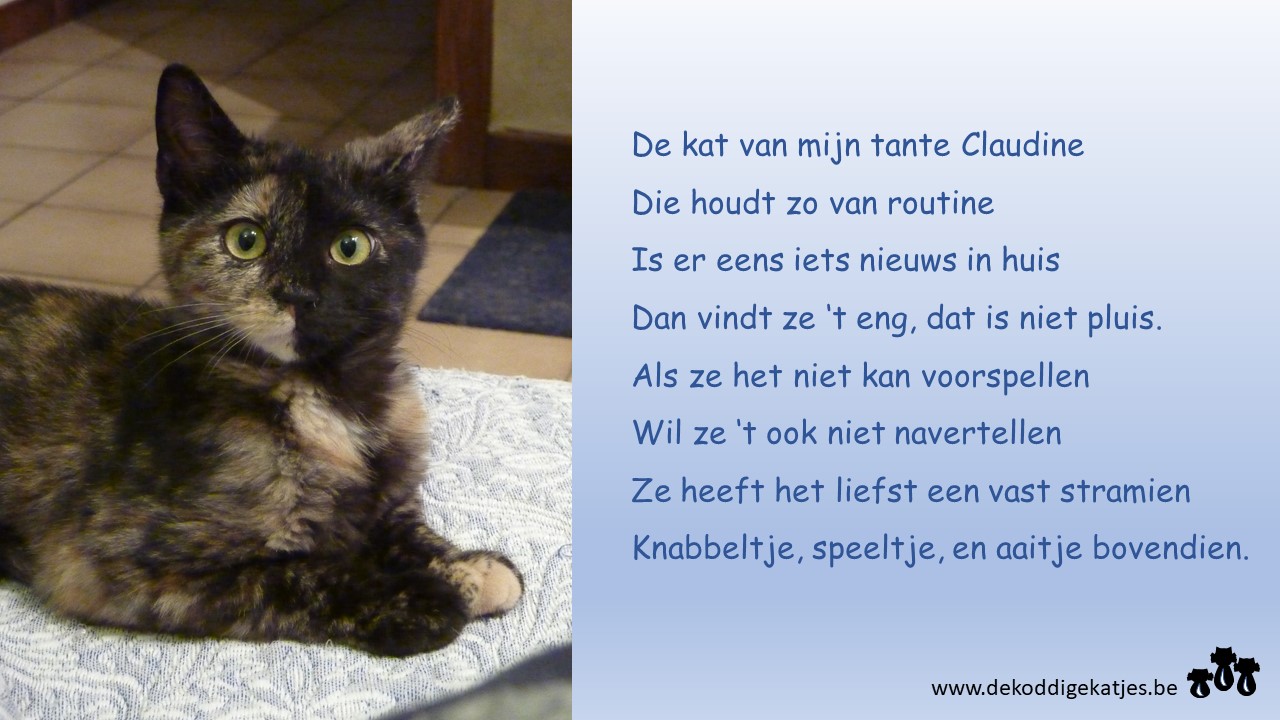 We gaan nog even door op het thema van de vorige aflevering, nl over die bangerikjes. Inderdaad, routine is o zo belangrijk voor bangerikjes. Maar net als de verstopplekjes, geldt deze tip zeker niet enkel voor bange katjes maar eigenlijk voor alle katjes.
Wat bedoelen we met routine? Eigenlijk gaat het over "voorspelbaarheid". Men zegt wel eens "alle katten zijn beetje autistisch", en ik kan dat beamen. Katten houden ervan als alles herkenbaar en voorspelbaar is. Nieuwe dingen of nieuwe mensen, daar krijgen veel katten toch wat stress van, de ene al wat meer dan de andere. Een paar concrete voorbeelden:
Veel katten gaan zich verstoppen wanneer er bezoek over de vloer komt, tenzij dat bezoek erg vaak langskomt, dan wordt het "herkenbaar", en dan is het OK.
De kat gaat zich meestal wat "anders" gedragen wanneer je bv een nieuwe eetkamer hebt geinstalleerd, of wanneer je net een kamer hebt ingericht als baby-kamer. En da's meteen een eerste tip: als er een baby op komst is, dan kan je best ruim op voorhand beginnen met de veranderingen te introduceren, heel geleidelijk aan. Want een baby in huis, dat haalt nu eenmaal de routine helemaal overhoop.
Zo vertelde iemand me een tijdje terug dat de kat erg "uit haar doen" was toen er een nieuw tuinhuisje was geinstalleerd.
Nog een paar tips die bij dit thema horen:
Hou 's morgens en 's avonds zoveel mogelijk dezelfde routine aan, bv eerst kattebakjes uitscheppen, dan water verversen, dan ontbijt/diner van de kat opdienen. En dus niet de ene keer voor je eigen ontbijt en de andere keer erna... Overigens, het is geen goed idee om je kat slechts 2x per dag eten te geven, daar komen we nog wel eens op terug. Maar je kan bv wel 2x per dag een extra tractatie natvoer voorzien.
Bouw een paar vaste momenten in om met je kat te spelen. "vaste momenten", bv net voor of net na je zelf gegeten hebt.
Stel een vaste routine in rond wanneer en hoe je je kat gaat knuffelen. Bv als de kat ergens in een holletje ligt te slapen, dan ga je niet knuffelen. Als je in de zetel ploft om te gaan TV kijken, dan nodig je de kat uit om op schoot te komen zitten. Zo wordt het knuffelmoment voorspelbaar voor je kat. En tenslotte: eerst altijd de kat aan je hand laten ruiken voor je gaat knuffelen. Dan zal ze zelf wel aangeven of ze er op dat moment zin in heeft of niet.
Categorieën: Algemene tips voor kattenpersoneel, Kattengedrag algemeen
/